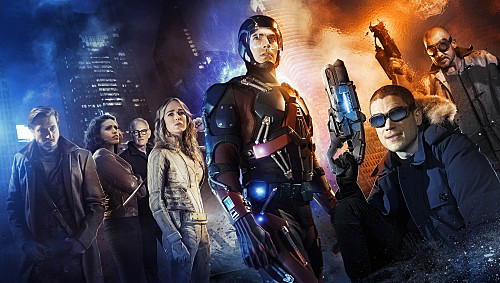 Warning: Spoilers
"You see, in the future, none of you are heroes. You're legends."
Sorry, guys. I have not hit maximum satiation when it comes to superhero series yet. Not even close. I'm highly on board with Arrow, The Flash and Marvel's Daredevil already. And while I'm a bit behind on Marvel's Agents of SHIELD and Gotham, I will be catching up. I'm hella excited for CBS' Supergirl, that TNT Teen Titans series as well as the rest of the Marvel/Netflix slate. So I have one question for DC's Legends of Tomorrow. Is it 2016 yet? Because I will be watching.
Official CW Synopsis: When heroes alone are not enough… the world needs legends.  Having seen the future, one he will desperately try to prevent from happening, time-traveling rogue Rip Hunter is tasked with assembling a disparate group of both heroes and villains to confront an unstoppable threat — one in which not only is the planet at stake, but all of time itself.  Can this ragtag team defeat an immortal threat unlike anything they have ever known? DC's Legends of Tomorrow stars Victor Garber (The Flash, Alias); Brandon Routh (Arrow, Superman Returns); Arthur Darvill ("Doctor Who"); Caity Lotz (Arrow); Ciara Renee (Pippin); Franz Drameh (Edge of Tomorrow); with Dominic Purcell (The Flash, Prison Break); and Wentworth Miller (The Flash, Prison Break). Based on the characters from DC Comics, DC's Legends of Tomorrow is from Bonanza Productions Inc. in association with Berlanti Productions and Warner Bros. Television, with executive producers Greg Berlanti (Arrow, The Flash, upcoming Pan), Marc Guggenheim (Arrow, Eli Stone, Percy Jackson: Sea of Monsters), Andrew Kreisberg (Arrow, The Flash, Eli Stone, Warehouse 13) and Sarah Schechter (Arrow, The Flash, upcoming Pan).
I don't think I'm the only one that's anxious to watch this spin-off. Over 4 million people have viewed the trailer and it hasn't even been a week. One of the biggest reasons for that might be the cast that's been assembled. All-Stars from Arrow and The Flash, including the return of Caity Lotz's Sara. When Sara died on Arrow I just didn't feel right about it. It was too soon. And now we're going to get her back. Much love for that decision. Although, how different will she be from the Sara we knew? We also get to meet some new heroes and villains and that's (almost) always a good thing.
Greg Berlanti, Andrew Kreisberg, Marc Guggenheim et. al. have not disappointed me yet. Thank you for bringing Victor Garber back to TV on a regular basis. I am one of the precious few that was crushed over the non-renewal of NBC's Deception a couple of years ago. He was such a good villain on that show. But I'm more excited he gets to be a hero on this one….albeit a cranky one. Securing the talents of Wentworth Miller and Dominic Purcell as the deliciously devilish Captain Cold and Heat Wave means the Prison Break reunion continues on. And that Brandon Routh. I loved his brief time as Superman. But I am happy he has another chance at superhero glory as Ray Palmer/The Atom. Ray's relationship with Felicity may have been enjoyable (and enjoyably brief), but I'm ready to see him bust out as a bigger part of an ensemble.
DC's Legends of Tomorrow has a bit of Doctor Who feel, don't you think? Not a shock considering the time travel element to this series. The trailer is one of my favorites I have seen this upfront season. That means I'm expecting big things from a show that features a (sometimes) subatomic powerhouse of a hero.
It's a long wait, everyone. DC's Legends of Tomorrow is a mid-season series. Boo.
Related posts
Scott McCord and Elizabeth Saunders Talk the From Season 2 finale
[Warning: Spoilers for the season finale.] How's everyone doing after that finale? While we wait and wonder and hope for a third season announcement, soon, here's what Scott McCord and Elizabeth Saunders had to say about their parts of the finale, and where they hope they get to go next….
What They Said: Three Revealing Conversations from Survivor's Remorse "Closure"
WARNING: Spoilers for Survivor's Remorse "Closure" The latest episode of Starz's Survivor's Remorse featured conversations that showed characters really digging deep into their thoughts, emotions and motivations.