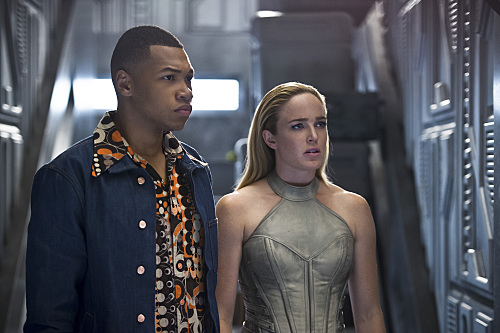 More power to the CW, right? Thursday nights feature a winning combo in DC's Legends of Tomorrow and The 100. The ratings were pretty good for last week's series premiere. Tonight will be the test, however. Can the ratings hold up in its second week?
This hodge-podge group of superheroes Rip Hunter gathered together got their first taste of what their new lives were going to look like last week. They zipped back to the '70s where they tracked down intel on the immortal villain — and main nemesis — Vandal Savage.
Along the way, they faced another bad guy: a bounty hunter known as Chronos. They got in a bar fight where Sara, Snart and Mick were trés badass (especially Sara). Kendra and Carter met their son the professor, who died by the end of the episode.
The heroes also learned that a certain Time Master lied about their being legends, which was a bit of a blow to the ego — especially for Ray Palmer, who's looking to do good and be great. As for Martin Stein and his newbie counterpart, Jefferson "Jax" Jackson — their relationship was super…turbulent. Jackson wanted no part of being a Legend of Tomorrow. He didn't want in the group or on the ship. He wanted to go home. Dr. Stein gave him no choice. He sedated or drugged — whatever word you'd like to use — Jax, which is how he found himself traveling back to the past.
During a press tour, Franz Drameh aka Firestorm discussed auditioning for Legends, being a comic book fan, and the dynamic between Jax and Dr. Stein. He also talked about his former job that will certainly help him out with the action aspects this role requires.
DC's Legends of Tomorrow airs Thursday nights at 8/7c on the CW.
Related posts
Alison Sweeney Talks About What's Next for Hannah and Mike After Carrot Cake Murder: A Hannah Swensen Mystery
[Warning: Spoilers for Carrot Cake Murder.] Everybody OK after that Hannah Swensen Mystery twist? Thankfully, our favorite crime-solving couple is still on speaking term, even if they're on a break (hopefully not that kind of break). Most importantly, we already know this isn't the last film in the series. No…
What They Said: Three Revealing Conversations from Survivor's Remorse "Closure"
WARNING: Spoilers for Survivor's Remorse "Closure" The latest episode of Starz's Survivor's Remorse featured conversations that showed characters really digging deep into their thoughts, emotions and motivations.