My go-to happy place when it comes to primetime television is a certain network that doesn't pull in the biggest ratings. That doesn't matter to me. What does is that it knows its brand but isn't afraid to take risks. It satisfies my need for all things superheroes, supernatural and dramatic. Yet it also entertains with a couple of quirky shows that feature a more comedic take on life. It has a lot of heart, a lot of hotness and is the most consistent broadcast network out there. I defy you to find another channel that has such passionate fans. You won't. Trust me.
I have a lot to be thankful for when it comes to all things TV. I'm thankful for the CW most of all. I'm not a superfan of every single one of its series, but it's close (sorry, Reign). If you're wondering what I'm watching on any given night, I'm either tuning into the CW live (and tweeting about it), or I'm catching up on the shows via my DVR over the weekend.
It's not the first time we've honored this network at Thanksgiving. With the quality shows it keeps rolling out, I feel the need to give thanks once again. As far as I'm concerned, the "C" in CW stands for creative, consistent, crazy twists, cool characters, crossover episodes, and can't miss comedies. I could do this all day.
10 Reasons I'm Thankful for the CW
#10Â Crazy Ex-Girlfriend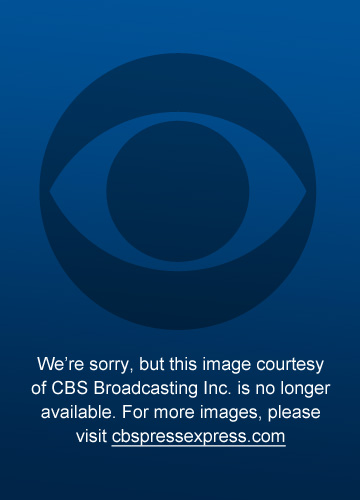 You can consider this my newest addiction. I watched the pilot but wasn't immediately hooked. I came back to it eventually and I'm so glad I did. It has me laughing and relating and it's even made me tear up a time or two. I'm invested in these characters and the musical aspect doesn't seem so out there anymore. Rachel Bloom is pretty fearless and same goes with the supporting cast. I can't figure out whether I'm Team Josh or Team Greg, but I don't care. What I love most about the show is watching Rebecca's character development. She's learning more and more about herself and she's opening up her world to more than work and more than getting with Josh. And that, crazy as it sounds, might be what gets her the man that compelled her to move to West Covina. And, yes, I know she claims she didn't move there for him, but we know she did.
#9 New Midseason Shows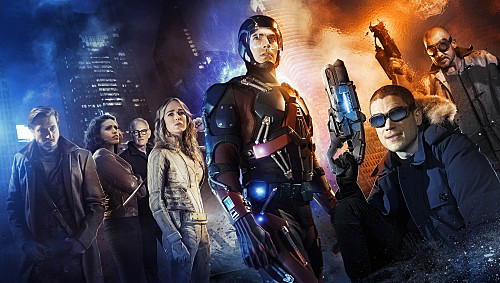 Currently, the CW has it all going on. However, I'm looking forward to its 2016 schedule, too. Containment's definitely on my radar thanks to the presence of Chris Wood, formerly of The Vampire Diaries. I need time to speed up because what's really interesting me is the Arrow/Flash spinoff, DC's Legends of Tomorrow. They're taking some of the best from those two universes and creating a whole new time traveling mega-verse. It's easily the series I'm anticipating the most in the new year.
FIRST LOOK TRAILER

#8 The 100
This is a show I find myself recommending to people over and over again. Some of my friends have heard of it but don't know what it's about. And when I fill them in, they're intrigued. The 100 has turned out to be much different than I ever thought it would be. It dials up the suspense, the action and plenty of character-driven goodness. And dials down the romance, although plenty of us fans ship couples near and dear to our hearts. But that's not what this show is about unless your names are Lincoln and Octavia. I'm here for the badass female portrayals, the unpredictable storylines, and the countless moral dilemmas. It's returning Jan. 21, and if you're smart, you'll catch up on Seasons 1 and 2 before the third season takes us somewhere weird and wonderful.
#7 The Vampire Diaries
My curiosity wouldn't let me write off The Vampire Diaries after Nina Dobrev left. I wanted to know if the powers that be could sustain and even resurrect the drama without one of their major leads. To my surprise, it has. One of my favorite aspects of the series has always been the brothers Salvatore. That hasn't changed. I've always wondered what it would be like if Caroline and Bonnie were in every single episode. And now we have it. While I'm not on board with everything going on this season, I feel like creatively it's on the rise. I love the flash forward scenes. I'm dying to figure out how Caroline and Alaric end up engaged and Enzo/Bonnie happens. And speaking of my favorite Mystic Falls witch, I adore the emphasis on the Bonnie/Damon friendship. In fact, I really would like the writers/producers to play it up even more. I can't get enough of those two crazy kids.
#6 iZombie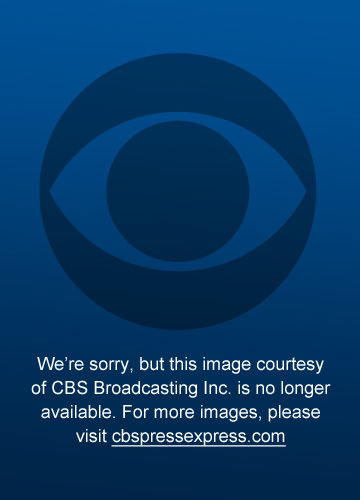 There's no sophomore slump for this show. It's every bit as riveting as its rookie year, maybe even more. Major's a hot mess. Blaine's human. Peyton is being folded into this universe a little more. Clive is way more interesting as he continues to investigate crimes with Liv, he develops a thing with the FBI agent, and he's still on the hunt for the culprit of the Meat Cute crime that happened last season (watch out, Major). And I still worship the theme song. Ultimately, however, I watch this show for Liv and her brain behavior of the week; how she relates to each of the characters in the wake of the Season 1 finale; and her reunions with Major and Peyton. I love the banter she has going on with Ravi and Clive. Simply put, I adore everything that has to do with Liv. Her story is interesting to me. When everyone either forgot her birthday or were too busy to go out with her, I teared up. Especially when she found the cake Peyton made for her. That's the mark of a series that features a character you care about. That's what I look for in a show.
#5 Jane the Virgin Much like iZombie, Jane the Virgin isn't suffering from a creative slump in its second season. It continues to be funny, wacky, over-the-top and poignant. I'm thankful for the quick resolution to the baby kidnapping. That's the only story on this show that made me wary. Everything else has been fascinating to watch. Once again, I'm torn between being Team Rafael and Team Michael. They do a good job with balancing out both men. One does something shady and a couple episodes later, the other one does something equally suspect. Right now, I'm leaning towards Michael but Rafael is gaining ground. Everything on this show is heightened and the actors do such a good job of pulling it off. Gina Rodriguez makes such an amazing lead. And my other MVP has to be Jaime Camil. I don't know how he does it, but he actually gives shallow Rogelio some depth at the same time. I also have a soft spot for the Rogelio/Michael friendship. I hope to see more of that in the future. And it's nice to see how Xiomara and Abuela are finally accepting Rafael into the family. And who knew I would root for Petra and Jane to become friends?
#4 Shallow TV Alert It's time to get shallow here. I'm mainly going to discuss the guys, although the ladies are equally as gorgeous and stunning. I'm sorry, but the CW has the hottest actors of any other network. Just look at the three guys that head up The Originals: Joseph Morgan, Daniel Gillies, and Charles Michael Davis. They are the reasons why I continue to be fascinated with the TVD spinoff. It's magical how spectacularly beautiful the men of Mystic Falls are. It's not fair, really.
Mesmerizing might be the best way to describe Arrow's Stephen Amell and his awesome abs; David Ramsey and those amazing arms; the beauty that is John Barrowman and Brandon Routh's perfect everything. I can't get enough of The Flash's dreamy Grant Gustin, Jesse L. Martin and Teddy Sears.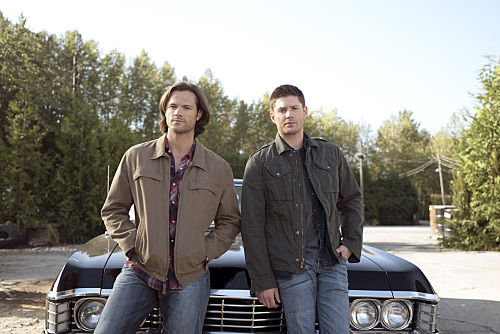 And, yeah, the piece de resistance has to be the boys of Supernatural. Jensen Ackles, Jared Padalecki, and Misha Collins are hot as hell and I can't get enough of them. But what I worship most is how most of these guys are ridiculously good looking and good actors to boot. Let us know who you think is the hottest of the hot on the CW below.
#3 Arrow Even though I'm an Oliver/Felicity fan, I wasn't sure how this relationship would play out once the characters got together. I didn't need to be worried. I love the way they work through their issues and support each other. Who knew Oliver would be so domestic? What I love most about Season 4, however, is the way it's truly Team Arrow. It's kind of like our very own Justice League battling it out week after week. My favorite addition to the team: Thea. I love that she's in on everything. She's turned out to be a fierce yet flawed fighter. What a villain we have with Damien Darhk. Oliver running for mayor is a genius move and I hope we get more of him vs. Darhk and not just the Green Arrow vs. Darhk if that makes any sense. That early season grave scene has me worried. I'm going to try to avoid thinking of who might be the one taking up space in that thing. I'm attached to almost everyone on the Arrow canvas.
#2 The Flash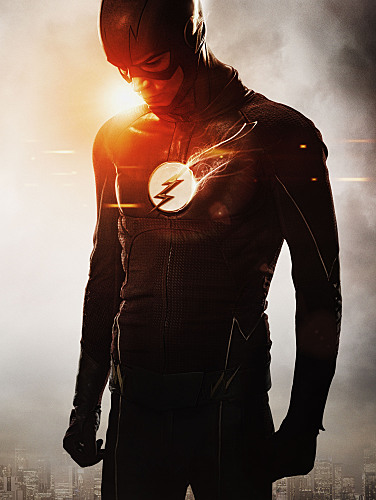 I'm going to repeat myself. Much like iZombie and Jane the Virgin, The Flash continues to experience greatness in Season 2. With Greg Berlanti and the gang handling so much of what goes on all over primetime TV, it's easy to think that at some point something has to give. It hasn't. Not even close. The Flash is a little bit darker in Year 2 (where Arrow got a little bit lighter), but it hasn't sacrificed quality or heart. Only seven or eight episodes have aired and Barry's been through so much. He's had to deal with not being able to save the people he cares about and having to give up his dream of saving his mother. Even though his father got out of prison, he skedaddled out of town soon after. And now Barry's dealing with so much more. He has to contend with beings who've made their way to his world from Earth-2. And man, no moment scared me more this season, than when Zoom dragged Barry's ass all around Central City, humiliating him and making him doubt himself. Other than that, Iris is now in on most everything and that makes me so damn happy. Cisco's figuring out his own power. This show makes me feel everything and that's what makes it so powerful. I'm going to single out Jesse L. Martin for making me feel the most in the wake of his ex-wife's return as well as every scene he shares with both Candice Patton and Gustin.
#1 Supernatural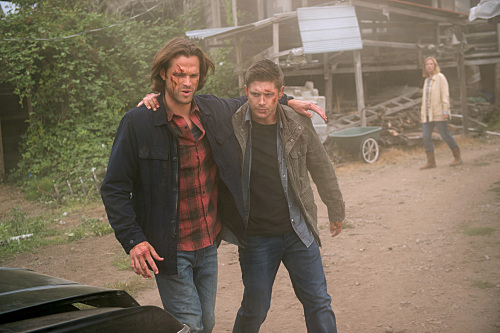 I'm a tad biased so I'm always going to make this show number one. Supernatural is the granddaddy of the CW. It's in Season 11 and I'm loving what I'm seeing so far. Again, it's not perfect but it's the best it's been in several seasons as far as I'm concerned — across the board. I'm liking the mythology of Sam's visions and Dean's connection with Amara and the brothers having to figure out this whole Darkness business. I'm digging the monster of the week cases, too. I haven't been as much a fan of those in the recent past. The cast chemistry continues to rock and roll. The "Baby" episode was so satisfying on every level. The scene of the season is Sam and Dean sitting in the Impala sharing a lengthy conversation. I like how this show takes risks so late in the game. It continues to be funny and emotional and scary and action-packed.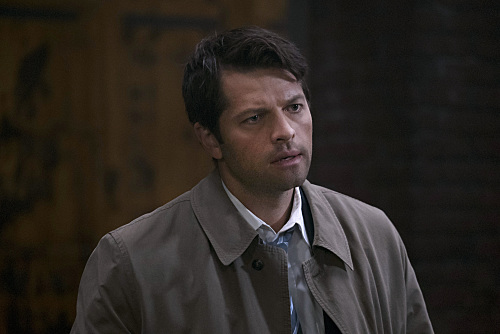 I'm excited about what we're going to get in the future. I hope there's some good stuff ahead for Sam, Dean, Cas and Crowley. It all comes down to these characters and the actors who play them. Along with the writing, they're the reasons why I'm so emotionally invested in this show and it continues to be my favorite series of all time.
The CW is the network with the shows I can't wait to watch on a weekly basis. Can't. Wait. You see what I did there?
What TV shows are you thankful for this year?
Related posts
Catching Up with Ted Lasso and Previewing Season 2
[Warning: General spoilers ahead.] The not so dirty little secret about how I approach a new series is that I sometimes make a call based on the headspace I'm in at the time. It's been a minute since I've picked up a show after the first season and then binge…
Interview: Henri Esteve on Grown-ish Season 3
An interview with Henri Esteve, who plays Javi on Freeform's Grown-ish. He talks about his season three experience.
For All Mankind Season 2: Talking with Wrenn Schmidt, Krys Marshall, Jodi Balfour, and Sonya Walger [Exclusive]
[Warning: General spoilers ahead.] One of the hooks of For All Mankind is that it's very much a story about the women of NASA. In Season 2, we explore the journeys of the women in the program, either through their own service or through their family affiliations. Four of those…
Rosy McEwen Talks The Alienist: Angel of Darkness Season Finale [Exclusive]
[Warning: Spoilers for the season finale episodes.] How's everyone after that finale? I will freely admit I got a little misty in episode eight as John told Sara why he loved her, and later that he wanted her despite what he might forfeit, and then at the end when he…
Rosy McEwen Talks The Alienist: Angel of Darkness [Exclusive]
Hands down, one of the best surprises of The Alienist: Angel of Darkness is that the serial killer this season has been front and center alongside the cast as a fully-formed character. We've watched Libby Hatch devolve from a prim, mild-mannered nurse to a woman in a rage hell-bent on…
The Alienist: Angel of Darkness Relationship Recap: John and Sara
[Warning: Spoilers for "Belly of the Beast" and "Memento Mori"] If you've read me for a while (thank you!), you know two things — I lean way, way in on the characters I adore and I loathe love geometry arcs. So, I'm torn about where we are and where we…
Louriza Tronco Talks The Order Season 2 [Exclusive]
[Warning: Spoilers ahead for Season 2.] The Order's second season is dark yet delightful entertainment on many levels, and one of its biggest sources of joy and snark is the sassy Gabrielle Dupres. Last season, she was assertive and deadly and fairly annoyed with the world. This season, she's been…
Previewing Netflix's Virgin River
[Warning: General spoilers ahead.] Full disclosure: I have a Netflix account for my Mom, but I'm not a regular viewer. If I get a heads up on something, I'll go look for it, but I don't have a wander across its offerings, which, as I understand it, is how most…
Final Thoughts From the Killjoys Team [Exclusive]
This is the day of the week I'd normally hit you up with a Killjoys preview, but now that we've put the series to bed and released Team Awesome Force into the wild, I have one more treat for you–some final thoughts excerpted from my conversations with the Killjoys folks….
Michelle Lovretta Talks Wrapping Up Killjoys [Exclusive]
[Warning: Spoilers for the series finale.] To quote Miss Jackson, "That's the end?" Yes, friends, it is. And like I promised you, everything would be, was, and is alright. I went to the Killjoys source, series creator Michelle Lovretta, who wrote the last episode, to break down that delicious finale….
What They Said: Three Revealing Conversations from Survivor's Remorse "Closure"
WARNING: Spoilers for Survivor's Remorse "Closure" The latest episode of Starz's Survivor's Remorse featured conversations that showed characters really digging deep into their thoughts, emotions and motivations.
Two Takes: The Catch "The Knock-Off"
Who can you trust? If this episode of The Catch was any indication, the answer is just about nobody. Betrayal was running rampant as Felicity (Shivani Ghai) arose from the dead to seduce-con Margot, Gretchen (Maria Thayer, Gotham, The Mindy Project) played gold-hearted Alice 2.0 before swindling Ethan, Tessa jumped…
What They Said: Top 3 Quotable Moments from Preacher "El Valero"
Both Quincannon and Jesse refuse to give up on what they each think is rightfully theirs. While Jesse is struggling to face the consequences of his actions, Quincannon has laid his past demons to rest and is hellbent on moving forward and putting Annville on the map again. Despite a…
What They Said: Favorite Quotes from Supergirl "Worlds Finest"
Oh, Supergirl. That ending was cold. But I can't hate on you because the latest episode has quickly become one of my favorites.
What They Said: Top 4 Quotable Moments from Black Sails "XXIII"
The dialogue in "XXIII" is phenomenal. It's always a fun ride when Black Sails carries its viewers along without giving them the chance to catch their breath. When an episode moves at this unforgiving pace, there is no chance for a breather nor is there a respite from the information…
What Lucifer Said: Favorite quotes from Supernatural "O Brother, Where Art Thou?"
Supernatural episodes are almost always funny but thanks to the dialogue and a certain man speaking said dialogue, I laughed a lot during "O Brother, Where Art Thou?" You know, when I wasn't busy fearing for Sam's life or wondering what in the world was going on with Dean and…
What They Said: The Flash, "Legends Of Today" and Arrow, "Legends Of Yesterday"
Two nights of Arrow + The Flash = what more could we ask for?! I don't know what it is about blending these shows, but I can't help but feel that every time they come together, they somehow become greater than the sum of their parts. And that's saying a lot…
What they Said: Top 4 Quotable Moments from Graceland "Little Bo Bleep"
Shoot outs. Fake outs. And long-awaited revelations. "Little Bo Bleep" was a jam-packed episode that wrapped up some loose ends and totally frayed others. Â It finally gave us one Sarkissian in jail and pulled back the curtain on Briggs' master plan, but it also set up Jakes for a world…
What They Said: Favorite Quotes from Poldark "Part 4"
"What have I told you, I don't require my wife to crochet and sip tea, but I do require her to remember she's not a beast of burden." No, I'm not talking about The Rolling Stones! I have to admit though, just for a second, the lyrics popped into my…
3 Moments of Goodness from Brooklyn Nine-Nine "Johnny and Dora"
The most satisfying part of this season's finale has to the Jake and Amy kiss. Well, they kiss three times but the last one is the best one — and it means something. The Charles and Rosa dynamic was also great. I love how she's convinced he doesn't know anything…