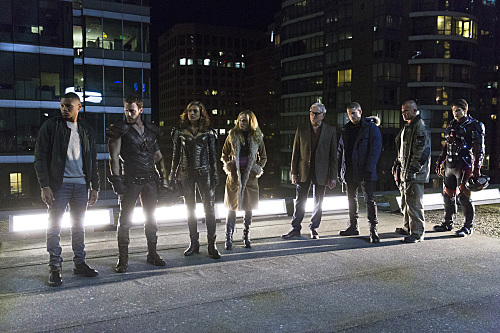 Tonight the ARROW-verse gets even bigger with the dawn of DC's Legends of Tomorrow. The immortal villain Vandal Savage needs to be stopped. Who better than a Time Master and a group of quirky strangers — all powerful in their own unique and sometimes criminal ways.
CW Series Synopsis:
In the year 2166, the immortal villain Vandal Savage (Casper Crump) is on the verge of his final victory – total chaos and the utter destruction of humanity. As the world crumbles, the Time Master Rip Hunter (Arthur Darvill) takes matters into his own hands; he travels 150 years into the past to assemble a carefully selected team of heroes and rogues, who together will be… Legends.

Hunter has chosen what seems like an ill-matched group: billionaire inventor Ray Palmer (Brandon Routh), who has created an exo-suit with the power to shrink him to miniscule size, as the Atom; Sara Lance (Caity Lotz), the White Canary, a trained assassin; Professor Martin Stein (Victor Garber) and Jefferson "Jax" Jackson (Franz Drameh), who together form the meta-human Firestorm; Leonard Snart (Wentworth Miller), known as Captain Cold, and his partner Mick Rory (Dominic Purcell), aka Heat Wave, a pair of career criminals; and Kendra Saunders (Ciara Renée) and Carter Hall (Falk Hentschel), who are really Hawkgirl and Hawkman, two souls who have been reincarnated many times, and who possess the ability to fly… and have a spiritual connection to Vandal Savage.

Convinced by Hunter to join him in the fight to defeat Savage, the group travels back and forth through time to try to stop Savage's plans from being set into motion, while Hunter struggles to keep to his duty as a Time Master and avoid irreparable damage to the timeline of history. The fate of the world is in the hands of this unlikely team, and the battle to save the earth will be legendary.
When TV Goodness visited the studio where Legends films, the cast talked to the press about the premiere.
Brandon Routh
Victor Garber

Arthur Darvill

DC's Legends of Tomorrow premieres tonight at 8/7c on the CW.
Go Inside the series premiere

Related posts
Dennis Heaton Talks The Imperfects
Longtime readers at TV Goodness will know that Motive is one of my ride-or-die series, and as such, I am fiercely loyal to its creator, Dennis Heaton. He followed up that fantastic reverse procedural with Netflix's The Order and is back on our streaming screens with The Imperfects, which dropped…
What They Said: Three Revealing Conversations from Survivor's Remorse "Closure"
WARNING: Spoilers for Survivor's Remorse "Closure" The latest episode of Starz's Survivor's Remorse featured conversations that showed characters really digging deep into their thoughts, emotions and motivations.