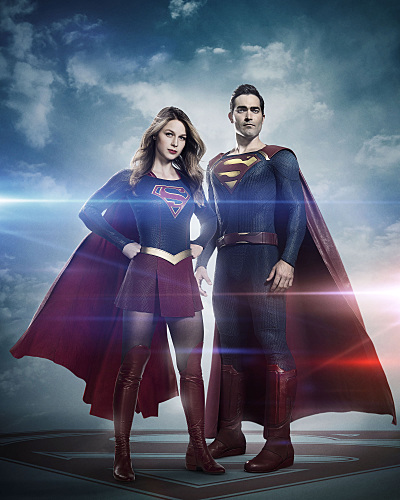 The Supergirl saga continues when the second season premieres tonight. The series makes the leap from CBS to the CW, the same network as powerful players The Flash, Arrow and DC's Legends of Tomorrow.
Normally, this network-to-network move would be considered the show's biggest news. It's not. The fact this transition puts a four-episode crossover directly in our path is huge, too. But there's still something about Season 2 that promises to be more super than ever before. Namely, the presence of Kara's cousin, Kal-El a.k.a Superman a.k.a. Clark Kent. Tyler Hoechlin from Teen Wolf takes on Man of Steel duty.
Last season, Clark was strictly an off-screen force who sent Jimmy Olsen to help guide Kara's journey into superhero-dom. The two cousins often private messaged each other — that was their main source of communication. There was also the time Superman fell victim to Myriad.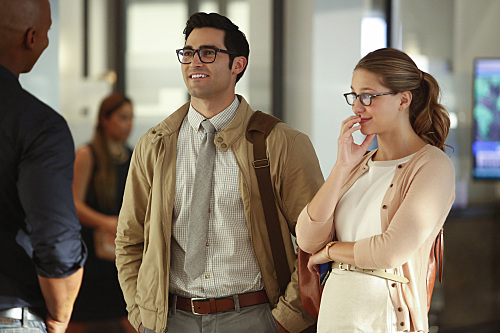 Supergirl star Melissa Benoist feels Kara spending quality in-person time with Clark is a good thing. "I thought it was a natural progression of our story," she said in a recent press call. "[Clark's] her only living family member and I think that's kind of a necessary relationship to explore for both characters."
"You see how he has relationships with everyone on the show," she added. "He has history with a lot of them. Some of them he meets for the first time and it's hilarious, like Winn. I think it's only going to reap benefits and Tyler Hoechlin is the man to do it. He's the perfect man to do it."
Kara has a busy agenda in Season 2 which includes the plot points left hanging from last season. There's the matter of her new position at CatCo, one she still needs to figure out. The Jimmy and Kara connection is still in play. On top of all that, there's the mystery man that fell to Earth in a pod. "He has a huge role to play in this season and he's going to change everyone's lives," Benoist teased.
As for what's new, look for Kara to interact with Lena Luthor, played by Merlin's Katie McGrath. "Lena has come to National City to rebrand her brother's company and to rebrand it in the name of good," said Benoist.
So far Lena's true motivations aren't totally clear. "It's hard for anyone in the House of El to trust a Luthor and I think that Clark and Kara are very aware of that," she said. "It's a good relationship that people will really be interested in."
Lynda Carter (TV's Wonder Woman) joins the show as the President of the United States. "She's full of sound advice and amazing stories," Benoist said. "I loved working with her and I think everyone else on the show did, too. And she looks amazing."
And finally, the mega-crossover featuring all four of CW's superhero shows will be a major highlight of this season. "We're in the middle of filming them. It's been so much fun. I can't even tell you how much fun it's been. It's kind of a crazy feeling to be surrounded by that many people in superhero outfits."
Supergirl's second season achieves flight tonight at 8/7c on the CW.
Synopsis for the Season 2 Premiere, "The Adventures of Supergirl"
THE CW HAS A NEW HERO AND SHE'S BRINGING SUPERMAN WITH HER — When a new threat emerges in National City, Kara/Supergirl (Melissa Benoist) teams up with her cousin, Clark Kent/Superman (guest star Tyler Hoechlin), to stop it. Kara is thrilled to have family in town but it leaves Alex (Chyler Leigh) feeling a bit left out. Meanwhile, Hank (David Harewood) and Supergirl are stunned by the pod that came crashing to Earth. Glen Winter directed the episode with story by Greg Berlanti & Andrew Kreisberg and teleplay by Andrew Kreisberg & Jessica Queller (#201). Original airdate 10/10/2016.
Related posts
Tyler Hynes Talks Through His Eight-Film Hallmark Holiday Library
Things you realize when you have to re-record your shows on a new DVR – just how many Hallmark movies your people have done. Fan favorite – and one of ours – Tyler Hynes has done eight Christmas movies for Hallmark Channel and Hallmark Movies & Mysteries since 2018. Alongside…
Spencer Creaghan Talks About Creating SurrealEstate's Signature Sound
SurrealEstate is winding down its second season, with two episodes left, and just as in Season 1, Spencer Creaghan's music continues to be a character unto itself. And every week, he shares tidbits with the fans via his s social media channels, something he started to help give them an…
Andrew Walker Talks Christmas Island and the Magical Hallmark Community
[Warning: Spoilers for Christmas Island.] Now that the Screen Actors Guild strike has been resolved, we're able to resume regularly scheduled programming and interview our favorites and yours. Up first, earlier today, I spoke with Andrew Walker about Christmas Island, which premiered last weekend and encores tonight and through the…
George Olson and Danishka Esterhazy Talk SurrealEstate "I Put a Spell on You"
[Warning: Spoilers for the episode.] Tonight's fun new SurrealEstate found Luke caught up in an especially bewitching woman, Kay, played by Tara Yelland, Susan trapped in her house, and Zooey learning the ropes. In the next part of my conversation with showrunner George R. Olson and producing director Danishka Esterhazy,…
Danishka Esterhazy Talks SurrealEstate: "The Butler Didn't"
[Warning: General spoilers for the episode]. Tonight's new SurrealEstate, "The Butler Didn't," follows the team as they investigate the years-earlier mysterious death of a woman whose ghost now reenacts her hanging by dropping over the banister from the second floor to terrify anyone on the landing or at the bottom…
Scott McCord and Elizabeth Saunders Talk the From Season 2 finale
[Warning: Spoilers for the season finale.] How's everyone doing after that finale? While we wait and wonder and hope for a third season announcement, soon, here's what Scott McCord and Elizabeth Saunders had to say about their parts of the finale, and where they hope they get to go next….
Scott McCord and Elizabeth Saunders Talk From Season 2 + A Season Finale Preview
[Warning: General spoilers ahead.] It all comes down this, #FROMily. As Sunday's episode wraps up Season 2, we begin with the aftermath of the terrifying onset of seemingly simultaneous attacks on Julie, Marielle, and Randall, which accelerate the "We gotta get out of this place" of it all. Sara comes…
Alison Sweeney Talks About What's Next for Hannah and Mike After Carrot Cake Murder: A Hannah Swensen Mystery
[Warning: Spoilers for Carrot Cake Murder.] Everybody OK after that Hannah Swensen Mystery twist? Thankfully, our favorite crime-solving couple is still on speaking term, even if they're on a break (hopefully not that kind of break). Most importantly, we already know this isn't the last film in the series. No…
Counting Down to From Season 2
[Warning: General spoilers ahead.] We're just shy of two weeks away from Season 2 of last spring's obsession, From, which premieres at 9 pm/8c, Sunday, April 23rd, on MGM+ (formerly EPIX). If you never picked it up last year, now's your chance, and you can do it for free, catching…
Thank Me Later: Will Trent
[Warning: spoilers ahead.] I'm on record as loving and losing shows over at ABC so I'm usually very reticent to pick something up on the network until it's been renewed, and I seriously hope I'm not jinxing it, but I took a chance on the deeply odd and very sweet…
What They Said: Three Revealing Conversations from Survivor's Remorse "Closure"
WARNING: Spoilers for Survivor's Remorse "Closure" The latest episode of Starz's Survivor's Remorse featured conversations that showed characters really digging deep into their thoughts, emotions and motivations.
Two Takes: The Catch "The Knock-Off"
Who can you trust? If this episode of The Catch was any indication, the answer is just about nobody. Betrayal was running rampant as Felicity (Shivani Ghai) arose from the dead to seduce-con Margot, Gretchen (Maria Thayer, Gotham, The Mindy Project) played gold-hearted Alice 2.0 before swindling Ethan, Tessa jumped…
What They Said: Top 3 Quotable Moments from Preacher "El Valero"
Both Quincannon and Jesse refuse to give up on what they each think is rightfully theirs. While Jesse is struggling to face the consequences of his actions, Quincannon has laid his past demons to rest and is hellbent on moving forward and putting Annville on the map again. Despite a…
What They Said: Favorite Quotes from Supergirl "Worlds Finest"
Oh, Supergirl. That ending was cold. But I can't hate on you because the latest episode has quickly become one of my favorites.
What They Said: Top 4 Quotable Moments from Black Sails "XXIII"
The dialogue in "XXIII" is phenomenal. It's always a fun ride when Black Sails carries its viewers along without giving them the chance to catch their breath. When an episode moves at this unforgiving pace, there is no chance for a breather nor is there a respite from the information…
What Lucifer Said: Favorite quotes from Supernatural "O Brother, Where Art Thou?"
Supernatural episodes are almost always funny but thanks to the dialogue and a certain man speaking said dialogue, I laughed a lot during "O Brother, Where Art Thou?" You know, when I wasn't busy fearing for Sam's life or wondering what in the world was going on with Dean and…
What They Said: The Flash, "Legends Of Today" and Arrow, "Legends Of Yesterday"
Two nights of Arrow + The Flash = what more could we ask for?! I don't know what it is about blending these shows, but I can't help but feel that every time they come together, they somehow become greater than the sum of their parts. And that's saying a lot…
What they Said: Top 4 Quotable Moments from Graceland "Little Bo Bleep"
Shoot outs. Fake outs. And long-awaited revelations. "Little Bo Bleep" was a jam-packed episode that wrapped up some loose ends and totally frayed others. Â It finally gave us one Sarkissian in jail and pulled back the curtain on Briggs' master plan, but it also set up Jakes for a world…
What They Said: Favorite Quotes from Poldark "Part 4"
"What have I told you, I don't require my wife to crochet and sip tea, but I do require her to remember she's not a beast of burden." No, I'm not talking about The Rolling Stones! I have to admit though, just for a second, the lyrics popped into my…
3 Moments of Goodness from Brooklyn Nine-Nine "Johnny and Dora"
The most satisfying part of this season's finale has to the Jake and Amy kiss. Well, they kiss three times but the last one is the best one — and it means something. The Charles and Rosa dynamic was also great. I love how she's convinced he doesn't know anything…