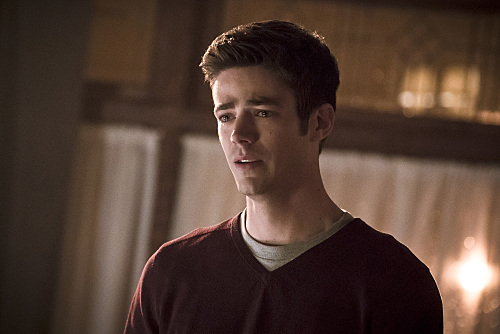 Barry Allen will forever be the heart of the DCTV universe as far as I'm concerned. His presence on Arrow always helps bring levity and humor (and hugs) to Oliver Queen's dark and dramatic life. Barry and Oliver have a way of relating to each other that is special.
He acted as a bit of a mentor for Kara Danvers a.k.a. Supergirl during that recent crossover. In the process, Barry was able to guide her and show her how to do the hero thing right. He taught her to not let anger and revenge trip her up so badly she can't do her job properly. Rushing into danger without a solid plan isn't cool. People will get hurt that way. She could get hurt that way. I think he helped boost her confidence in herself.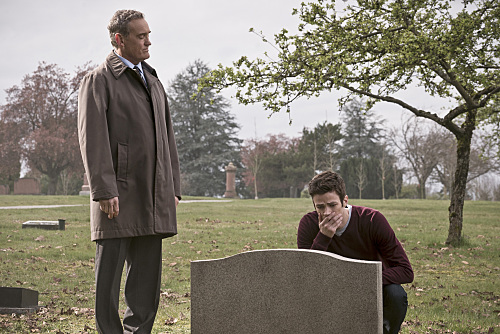 On his own show, Grant Gustin has done a great job delivering the emotional beats on a weekly basis. Recently, however, I haven't been feeling those beats. While The Flash has remained enjoyable, the emotion has been M.I.A. for me.
The Jay Garrick is Zoom reveal fell a little flat. So did Barry sacrificing his powers to save Wally, Cisco's reconnecting with his brother, the latest reunion between Henry and Barry, and even Iris putting herself out there with Barry. I was frustrated because the Iris/Barry situation is something I've been wanting for a long time. It felt like a breakthrough that should have excited me. It did, but not as much as I expected.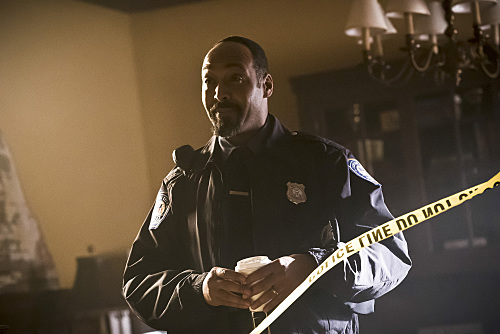 "The Runaway Dinosaur" changed all of that. It worked for me on so many levels. Barry meeting the Speed Force restored his hero-ness and that is a beautiful thing. Getting his powers back wasn't easy and it shouldn't have been. Taking him to a place where the Speed Force could have a sit down with him in order to get his head on straight especially with his mom's death, was a smart move. Having it materialize as the people who mean the most to Barry was a nice touch as well. The message meant more that way, even though it was a little jarring to see our favorite Flash characters act so out of character.
Barry had to find himself. He had to realize once and for all that things happen for a reason. He had to deal with his mom's death. He had to go to her grave for the first time ever. He also had to have that moment with her in this other place. It's a heartbreaking moment where Nora started reading Barry's favorite children's book to him. And then Barry took over and recited The Runaway Dinosaur from memory. I felt his pain and his joy. The knowledge that this was the Speed Force kept escaping him. He tried to remind himself but it was so easy to lose himself in this present.
Barry: "But if you were a T-Rex, said his mother. How would you hug me with your tiny little arms? I wish I were an apatosaurus, said the little dinosaur. So with my long neck I could see high above the treetops. But if you were an apatosaurus, said his mother. How would you hear me in the treetops when I told you I love you? What makes you so special, little maiasaura, said its mother is that your ferocious teeth, or long neck or pointy beak…what makes you special is out of all the different dinosaurs in the big wide world, you have the mother who is just right for you and who will always love you."
Speed Force deemed Barry ready. He was able to catch the shadow that had been so elusive. It turned out to be the other costumed part of him. He was whole again, ready to go as The Flash. Gustin's Runaway Dinosaur scene did a lot for me, too. It helped reestablish my emotional connection to the show. Something else had a hand in it, too.
As much of a non-factor a zombie-fied Girder really was, at least it required Iris to be a part of the action. She's a character I've rooted for since the beginning of the series. But they've never quite known what to do with her. This is the closest they've gotten to figuring things out.
Iris and Cisco spent quality time trying to combat their old foe. She had a real presence. Presence and being present is sort of a theme here. They were also the ones who brought Barry back. "I got lost," said Barry. "It's okay. We found you," replied Iris.
A touching moment, but It was a different line of dialogue that triggered a deeper reaction. After Barry returned to his world and his people, he finally went to his mom's grave. Iris was there with him. He told her how he and his mom used to read The Runaway Dinosaur when he was little. Iris responded in an interesting but extremely in character kind of way. She revealed how much she never liked that book. "Because it was about a mother who was always there for her child, no matter what. That wasn't my mom. Or yours. We never had anyone who was just right for us," she said. Barry begged to differ. "Didn't we," he asked.
Barry's time with the Speed Force provided him with a clarity he's never completely had. It's going to make him a faster Flash. It's going to make him a better Flash. And it's turned him into a man that's not afraid to reach out for what — or who — he wants. Last week, we finally heard things from Iris' perspective. But Barry held back. This week, he stepped up. He said he's tired of wasting time and he admitted even though he doesn't know where this is going, she's everything to him.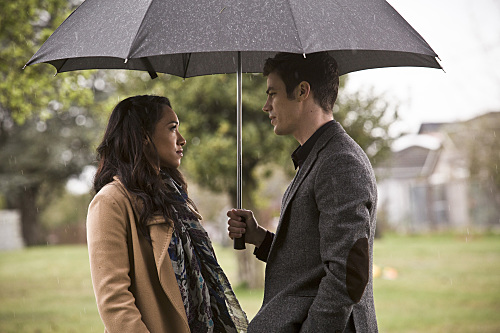 Barry: "And the sound of your voice will always bring me home."
This show has never had to go above and beyond to sell me on Iris and Barry. But I will admit over the last two seasons, as each experienced their own loves and flirtations, I didn't always feel their connection. I haven't been as invested in them as I was in the very beginning of the series. Now I am. It doesn't need to happen today or tomorrow but someday will be nice. And on this Earth. Not another.
And just like that my emotional connection to this show is restored. All it took was a second particle accelerator explosion, a visit with the Speed Force, Cisco and Iris bringing Barry home, a book about dinosaurs and Barry coming to terms with his mother's death and his destiny.
Oh and back to Barry being the heart of DCTV. I'm wondering if he might need to lend his presence to DC's Legends of Tomorrow at some point soon. Just saying.
Only two episodes left in Season 2. The Flash airs Tuesday nights at 8/7c on the CW.
Related posts
Catching Up with Ted Lasso and Previewing Season 2
[Warning: General spoilers ahead.] The not so dirty little secret about how I approach a new series is that I sometimes make a call based on the headspace I'm in at the time. It's been a minute since I've picked up a show after the first season and then binge…
Interview: Henri Esteve on Grown-ish Season 3
An interview with Henri Esteve, who plays Javi on Freeform's Grown-ish. He talks about his season three experience.
For All Mankind Season 2: Talking with Wrenn Schmidt, Krys Marshall, Jodi Balfour, and Sonya Walger [Exclusive]
[Warning: General spoilers ahead.] One of the hooks of For All Mankind is that it's very much a story about the women of NASA. In Season 2, we explore the journeys of the women in the program, either through their own service or through their family affiliations. Four of those…
Rosy McEwen Talks The Alienist: Angel of Darkness Season Finale [Exclusive]
[Warning: Spoilers for the season finale episodes.] How's everyone after that finale? I will freely admit I got a little misty in episode eight as John told Sara why he loved her, and later that he wanted her despite what he might forfeit, and then at the end when he…
Rosy McEwen Talks The Alienist: Angel of Darkness [Exclusive]
Hands down, one of the best surprises of The Alienist: Angel of Darkness is that the serial killer this season has been front and center alongside the cast as a fully-formed character. We've watched Libby Hatch devolve from a prim, mild-mannered nurse to a woman in a rage hell-bent on…
The Alienist: Angel of Darkness Relationship Recap: John and Sara
[Warning: Spoilers for "Belly of the Beast" and "Memento Mori"] If you've read me for a while (thank you!), you know two things — I lean way, way in on the characters I adore and I loathe love geometry arcs. So, I'm torn about where we are and where we…
Louriza Tronco Talks The Order Season 2 [Exclusive]
[Warning: Spoilers ahead for Season 2.] The Order's second season is dark yet delightful entertainment on many levels, and one of its biggest sources of joy and snark is the sassy Gabrielle Dupres. Last season, she was assertive and deadly and fairly annoyed with the world. This season, she's been…
Previewing Netflix's Virgin River
[Warning: General spoilers ahead.] Full disclosure: I have a Netflix account for my Mom, but I'm not a regular viewer. If I get a heads up on something, I'll go look for it, but I don't have a wander across its offerings, which, as I understand it, is how most…
Final Thoughts From the Killjoys Team [Exclusive]
This is the day of the week I'd normally hit you up with a Killjoys preview, but now that we've put the series to bed and released Team Awesome Force into the wild, I have one more treat for you–some final thoughts excerpted from my conversations with the Killjoys folks….
Michelle Lovretta Talks Wrapping Up Killjoys [Exclusive]
[Warning: Spoilers for the series finale.] To quote Miss Jackson, "That's the end?" Yes, friends, it is. And like I promised you, everything would be, was, and is alright. I went to the Killjoys source, series creator Michelle Lovretta, who wrote the last episode, to break down that delicious finale….
What They Said: Three Revealing Conversations from Survivor's Remorse "Closure"
WARNING: Spoilers for Survivor's Remorse "Closure" The latest episode of Starz's Survivor's Remorse featured conversations that showed characters really digging deep into their thoughts, emotions and motivations.
Two Takes: The Catch "The Knock-Off"
Who can you trust? If this episode of The Catch was any indication, the answer is just about nobody. Betrayal was running rampant as Felicity (Shivani Ghai) arose from the dead to seduce-con Margot, Gretchen (Maria Thayer, Gotham, The Mindy Project) played gold-hearted Alice 2.0 before swindling Ethan, Tessa jumped…
What They Said: Top 3 Quotable Moments from Preacher "El Valero"
Both Quincannon and Jesse refuse to give up on what they each think is rightfully theirs. While Jesse is struggling to face the consequences of his actions, Quincannon has laid his past demons to rest and is hellbent on moving forward and putting Annville on the map again. Despite a…
What They Said: Favorite Quotes from Supergirl "Worlds Finest"
Oh, Supergirl. That ending was cold. But I can't hate on you because the latest episode has quickly become one of my favorites.
What They Said: Top 4 Quotable Moments from Black Sails "XXIII"
The dialogue in "XXIII" is phenomenal. It's always a fun ride when Black Sails carries its viewers along without giving them the chance to catch their breath. When an episode moves at this unforgiving pace, there is no chance for a breather nor is there a respite from the information…
What Lucifer Said: Favorite quotes from Supernatural "O Brother, Where Art Thou?"
Supernatural episodes are almost always funny but thanks to the dialogue and a certain man speaking said dialogue, I laughed a lot during "O Brother, Where Art Thou?" You know, when I wasn't busy fearing for Sam's life or wondering what in the world was going on with Dean and…
What They Said: The Flash, "Legends Of Today" and Arrow, "Legends Of Yesterday"
Two nights of Arrow + The Flash = what more could we ask for?! I don't know what it is about blending these shows, but I can't help but feel that every time they come together, they somehow become greater than the sum of their parts. And that's saying a lot…
What they Said: Top 4 Quotable Moments from Graceland "Little Bo Bleep"
Shoot outs. Fake outs. And long-awaited revelations. "Little Bo Bleep" was a jam-packed episode that wrapped up some loose ends and totally frayed others. Â It finally gave us one Sarkissian in jail and pulled back the curtain on Briggs' master plan, but it also set up Jakes for a world…
What They Said: Favorite Quotes from Poldark "Part 4"
"What have I told you, I don't require my wife to crochet and sip tea, but I do require her to remember she's not a beast of burden." No, I'm not talking about The Rolling Stones! I have to admit though, just for a second, the lyrics popped into my…
3 Moments of Goodness from Brooklyn Nine-Nine "Johnny and Dora"
The most satisfying part of this season's finale has to the Jake and Amy kiss. Well, they kiss three times but the last one is the best one — and it means something. The Charles and Rosa dynamic was also great. I love how she's convinced he doesn't know anything…