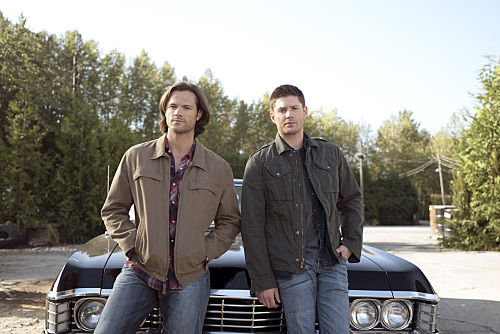 Supernatural Season 11 is rolling along quite nicely, don't you guys think? I enjoyed "Thin Lizzie" way more than I thought I would. It had the feel of a classic episode but it was so much more. I think it turned out to be exactly what I've always wanted for this show. It's a Monster of the Week investigation coupled with strong ties to Mythology. It's a friggin' hybrid of an episode and I loved every bit of it. Take that, ghoul-pires!
What else did it have going for it? Let's break things down.
–"Thin Lizzie" — Totally adored the title. It's a play on the Irish rock band, Thin Lizzy. This show knows itself. And as much as the monsters and the car and the brothers are a part of Supernatural, so is the music. Whether it's in the soundtrack or the titles of episodes or the aliases the boys take on as federal agents (in this case, Agents Collins and Gabriel. Sorry, Misha. Sam wasn't referring to you. This was all about Genesis.)
–The Guest Stars — especially Jared Gertner's Len — were wonderful. Len's interactions with the Winchesters are funny, quirky and, ultimately, heartbreaking. I'd love to see him again. Maybe there can be another case in a jail someday a la "Folsom Prison Blues?" The girl playing Amara is great, too. Unfortunately, we won't be seeing too much of her again since Amara's a quickly growing girl thanks to her soul-sucking ways. On IMDB, she is down as appearing in next week's "Our Little World."
–The Soulless Game — I like that we're revisiting what it means to be soulless in this universe. Gosh, was it really five seasons ago that Soulless Sam ruled our hearts? This topic has been touched on since those days, but now that Amara's doing the soul-sucking thing, it's back in full force. And I like that people react differently to losing their essence. For Len, he knows what he should be doing and feeling and loving (i.e. his Lizzie Borden obsession). But none of it gives him enjoyment anymore.
However, he doesn't turn into a "whack" job like Sydney does. Len wants his soul back so bad. Sydney's soullessness turns out to be her salvation (and her undoing). She feels free because she's no longer burdened with pesky feelings. The emotional pain from the abuse she experienced in her childhood — gone. It does, however, turn her into a cold-blooded killer. Those thoughts were there before. Now she has no conscience holding her back. I guess you can consider her a kidnapper as well. She gets the drop on the boys but good and props them up all nice and pretty for Amara.
Thankfully, Sam escapes his ropes and Len comes to the rescue. Once again, I have to say how much I enjoyed that guy. He doesn't want to off anyone. He's tremendously self-aware with his new condition. He can feel a darkness bubbling up within himself and knows he'll kill again. Since Sam and Dean are all about saving people with minimal collateral damage these days, the older Winchester's not going to take matters in his own hands. He doesn't have to. Len decides to take himself out of the equation. Not by killing himself — he decides to confess to all the murders and turns himself in. What a classy, kind of weird, totally awesome guy. So sad this happens to him, however. I kind of got emotional simply thinking of what's ahead for him.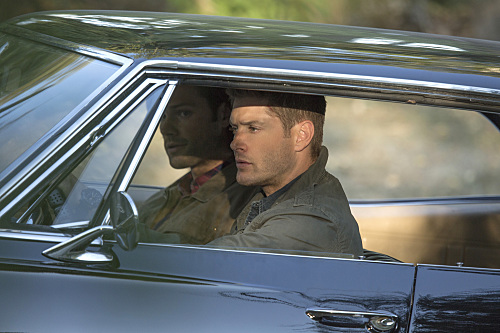 –Sam and Dean — I continue to enjoy the brothers working together this season. Their banter is awesome. They tease each other so beautifully. And I really adore their lean-against-Baby bro moment at the end of the episode. Of course, I can't get enough of soul-searching Winchester BMs. Sue me.
–Sam's True Crime fascination — I like that the show has continued to showcase his fascination with the macabre. There are so many quirks to Dean that we know about. I'm happy the show hasn't forgotten about Sam being a serial killer buff. His calling the Lizzie Borden room is in character and so much fun, as twisted as this sounds.
–Dean's expressions — Reacting to the doily-fied hotel room at the Lizzie Borden Inn or when Len quickly accepts he has no soul — Dean's expressions are classic and entertain me verily. Keep them coming, Jensen.
–Amara — At the end of "Thin Lizzie," when Sam and Dean drive away, we see Amara who says: "Bye, Dean. I'll see you soon." NICE MOMENT. And so scary. It's really cool how they're threading her through these episodes.
While it felt like things took a little bit to advance to the good stuff, I really enjoyed everything that happened in "Thin Lizzie." Kudos to the new writer, Nancy Won. OMG. Just took a look at her credits. She's written/produced for shows I've watched like Everwood, Brothers and Sisters, Dirty Sexy Money and Being Human, a series Supernatural head honcho Jeremy Carver co-created that used to run on Syfy. Not going to lie, as much as I loved Being Human, I'm most impressed with Won's Dirty, Sexy, Money credit. I am not worthy. Anyway, hope she'll be back with more later this season.
And I also hope this week's director — Rashaad Ernesto Green — will be back. He did another seamless job with "Thin Lizzie." If you recall, he was new to this world in Season 10 when he directed "Inside Man." Here's to him getting a couple more opportunities to put his stamp on Supernatural this season.
Before I call it quits on this recap, here's more from Jensen and Jared's Vancouver Set Interview. First, Jensen and Jared talk Amara. And then in the second video, I got the chance to ask Jensen about Dean meeting Billie the Reaper from Season 11's "Form and Void."
One final note: Yay to Eric Kripke FINALLY joining Twitter! Supernatural airs Wednesdays at 9/8c on the CW.
Related posts
Dennis Heaton Talks The Imperfects
Longtime readers at TV Goodness will know that Motive is one of my ride-or-die series, and as such, I am fiercely loyal to its creator, Dennis Heaton. He followed up that fantastic reverse procedural with Netflix's The Order and is back on our streaming screens with The Imperfects, which dropped…
What They Said: Three Revealing Conversations from Survivor's Remorse "Closure"
WARNING: Spoilers for Survivor's Remorse "Closure" The latest episode of Starz's Survivor's Remorse featured conversations that showed characters really digging deep into their thoughts, emotions and motivations.