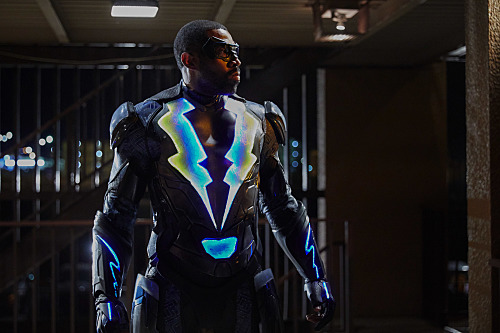 The CW's Black Lightning has a lot going for it. A compelling story. Captivating heroes. Deliciously evil villains. A talented cast that instantly clicked chemistry-wise. Great source material thanks to the comics it's based on. It doesn't shy away from relevant topics that matter. And on top of it all, it features an eclectic sound that adds to the show's magic.
From the cold open to the end credits, Black Lightning sets a tone that screams expect the unexpected. The soundtrack instantly helps make the series a stand-out in the crowded Superhero TV field. This has a lot to do with the action-packed drama's composer, Kurt Farquhar.
"Those were my marching orders," says Farquhar. "At the same time you're not tossing out the baby with the bathwater. I love what Blake Neely [Composer for Arrow, The Flash and Supergirl] is doing in all his shows. He's just a brilliant, brilliant composer who's really in my opinion giving the master class every week on how to do this."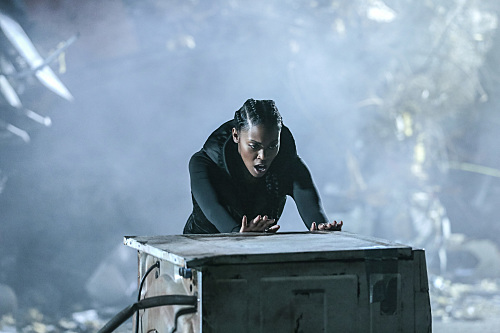 "In my scores you do have some of the soaring french horns and the playing of the hero-esque themes but in combination with many other elements that round out our characters," the musician continues. "Because our characters, the differences in this are dictated by what we have in the writing and on the screen."
For over 30 years Farquhar's been the man behind the music for countless TV shows. Consider his diverse resume. For every Girlfriends, Moesha and The Quad there's King of Queens, Ned and Stacey and Stitchers.
Something else may surprise you: he's a self-proclaimed country and western music lover. Here's what else we learned about Farquhar when he recently talked to TV Goodness.
Kurt has a brother in the biz.
I got into television the old fashioned way, nepotism. My older brother Ralph Farquhar was a writer on Happy Days and Married with Children. He used to say god, Kurt, you write so much stuff. You'd be perfect for television. I would tell him I don't even watch television so why would I want to write for it. I was firmly looking right down my nose at television and television music.
Truth be told, I ended up homeless at one point, homeless and living on the streets. On my way up trying to struggle to get my way back into a normal life, I ended up getting an opportunity to write a theme song. I did and I actually got it. That and the money and the things I got from that are part of what helped me dig my way out.
I love the collaborative aspect of it. It's not just about me and my music. It's my music serves a purpose in the overall vision of a picture. That picture is not the same without my music. My music isn't the same without the choices that are made with the picture. That's a beautiful collaborative sort of craft.
For Farquhar, diversity is key when it comes to his resume.
Here's a world in music where it can be equal opportunity. Where a guy from the south side of Chicago who comes up and does shows like Moesha and The Parkers and Sister, Sister can end up doing a show like King of Queens and nobody bats an eye. They just listen to the music. They listen to what was special about what I did.
I found a quirky way of approaching King of Queens. I found a different way of approaching Stitchers that isn't like anything else out there. I wouldn't be that person that you would first think of off the top of your head before Stitchers to get Stitchers.
Before I did that, I am sure I was on nobody's short list for that type of show. Fortunately, Jeff Schechter and Todd Holland gave me a shot. They said they looked at a lot of different folks and they found the way to get something really young and edgy and fresh was to hire the 60 year old guy from the south side of Chicago.
Creating the Black Lightning sound was challenging.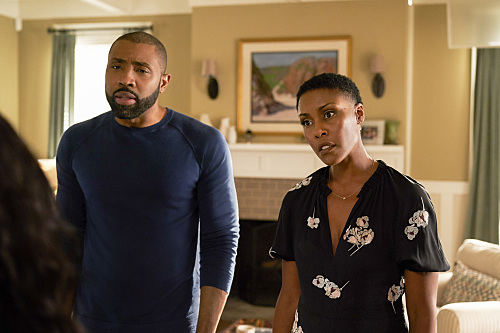 It has a lot of elements in it. A lot of the music is done through songs that the wonderful music supervisor Kier Lehman chooses along with the show runner Salim Akil.
You have to find a way to be seamless to where it doesn't feel like here's a song and now here's some score and here's a song, here's some score. No, you're using all of my talents.
The other thing that was important, I don't know whether it was difficult but it was important to me was I didn't want to just turn on the hip-hop sounds because they were black characters on the screen.
These are complex characters that have a bunch of different sides to them. I wanted to be able to show that these characters aren't just one dimensional.
He uses different types of music to make characters more one dimensional.
One of the things I took into account for Jefferson [Pierce] — when he's not Black Lightning — the score has a lot of traditional elements of it but then you start seeing the melding of this very soulful voice that's in here. That's supposed to be the inner heart, inner soul of Jefferson.
We're doing it that way as opposed to putting a beat on it. It's just a slightly different way of looking at it. We're combining all kinds of sounds from electronic to trap to EDM and dub step to create just a melange of sounds.
It allows for me also to more easily transition from whatever they're doing with their songs into bring them into the world that I'm having to deal with.
Jill Scott's character has a very distinct vibe.
Lady Eve has her own sort of thing. I have created a sound, a type of sound more so than a theme, it's a sensibility for who she is. There appears that there can be some really dark, deep dark twisted stuff going on with her. We're going to follow that along with the music, see where it takes us.
Meanwhile, reluctant hero Jefferson Pierce's sound takes on a more tortured angle.
If you listen to the piano theme see how it's like, there's a melancholy to it, there's a sort of tortured nature to it like he doesn't want to have to do this. There is a darkness to him as well. It's not the average everyday superhero. We're trying to explore the conflicted nature of his character and musically I want to show that it's not all love and lights. There's something there that's he's very conflicted about that this is difficult for him.
Farquhar can't wait for fans to see episode six.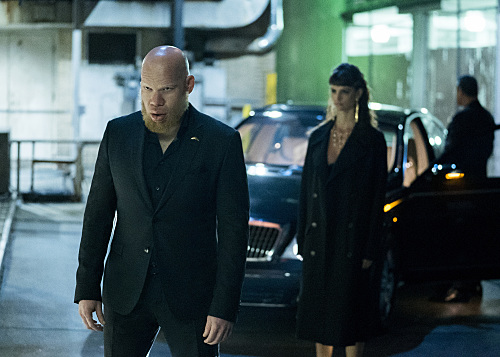 I can't say much about the episode but I will have to say I'm real excited for everybody to see episode six. It's going to be a shocker. You're really not going to believe some of the stuff that happens in that episode. I mean, for real, literally one scene alone I spent two days on just because I was personally going back and forth, no, we got to do this, no go back. It was literally, I was getting all twisted and conflicted. It was coming out in the music.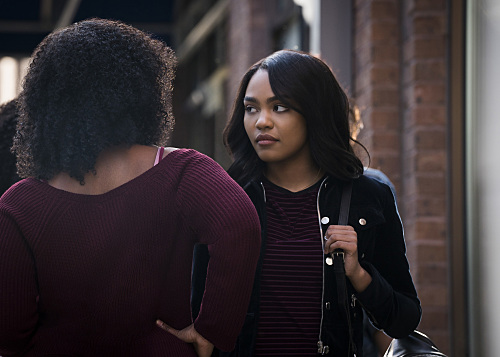 Farquhar's music can be heard on Black Lightning Tuesdays at 9/8c on the CW. Heads up: due to the Olympics, the show is off for the next couple of weeks. Episode six — the one Farquhar talks about in his interview — doesn't air until Tuesday, Feb. 27.
Related posts
Catching Up with Ted Lasso and Previewing Season 2
[Warning: General spoilers ahead.] The not so dirty little secret about how I approach a new series is that I sometimes make a call based on the headspace I'm in at the time. It's been a minute since I've picked up a show after the first season and then binge…
Interview: Henri Esteve on Grown-ish Season 3
An interview with Henri Esteve, who plays Javi on Freeform's Grown-ish. He talks about his season three experience.
For All Mankind Season 2: Talking with Wrenn Schmidt, Krys Marshall, Jodi Balfour, and Sonya Walger [Exclusive]
[Warning: General spoilers ahead.] One of the hooks of For All Mankind is that it's very much a story about the women of NASA. In Season 2, we explore the journeys of the women in the program, either through their own service or through their family affiliations. Four of those…
Rosy McEwen Talks The Alienist: Angel of Darkness Season Finale [Exclusive]
[Warning: Spoilers for the season finale episodes.] How's everyone after that finale? I will freely admit I got a little misty in episode eight as John told Sara why he loved her, and later that he wanted her despite what he might forfeit, and then at the end when he…
Rosy McEwen Talks The Alienist: Angel of Darkness [Exclusive]
Hands down, one of the best surprises of The Alienist: Angel of Darkness is that the serial killer this season has been front and center alongside the cast as a fully-formed character. We've watched Libby Hatch devolve from a prim, mild-mannered nurse to a woman in a rage hell-bent on…
The Alienist: Angel of Darkness Relationship Recap: John and Sara
[Warning: Spoilers for "Belly of the Beast" and "Memento Mori"] If you've read me for a while (thank you!), you know two things — I lean way, way in on the characters I adore and I loathe love geometry arcs. So, I'm torn about where we are and where we…
Louriza Tronco Talks The Order Season 2 [Exclusive]
[Warning: Spoilers ahead for Season 2.] The Order's second season is dark yet delightful entertainment on many levels, and one of its biggest sources of joy and snark is the sassy Gabrielle Dupres. Last season, she was assertive and deadly and fairly annoyed with the world. This season, she's been…
Previewing Netflix's Virgin River
[Warning: General spoilers ahead.] Full disclosure: I have a Netflix account for my Mom, but I'm not a regular viewer. If I get a heads up on something, I'll go look for it, but I don't have a wander across its offerings, which, as I understand it, is how most…
Final Thoughts From the Killjoys Team [Exclusive]
This is the day of the week I'd normally hit you up with a Killjoys preview, but now that we've put the series to bed and released Team Awesome Force into the wild, I have one more treat for you–some final thoughts excerpted from my conversations with the Killjoys folks….
Michelle Lovretta Talks Wrapping Up Killjoys [Exclusive]
[Warning: Spoilers for the series finale.] To quote Miss Jackson, "That's the end?" Yes, friends, it is. And like I promised you, everything would be, was, and is alright. I went to the Killjoys source, series creator Michelle Lovretta, who wrote the last episode, to break down that delicious finale….
What They Said: Three Revealing Conversations from Survivor's Remorse "Closure"
WARNING: Spoilers for Survivor's Remorse "Closure" The latest episode of Starz's Survivor's Remorse featured conversations that showed characters really digging deep into their thoughts, emotions and motivations.
Two Takes: The Catch "The Knock-Off"
Who can you trust? If this episode of The Catch was any indication, the answer is just about nobody. Betrayal was running rampant as Felicity (Shivani Ghai) arose from the dead to seduce-con Margot, Gretchen (Maria Thayer, Gotham, The Mindy Project) played gold-hearted Alice 2.0 before swindling Ethan, Tessa jumped…
What They Said: Top 3 Quotable Moments from Preacher "El Valero"
Both Quincannon and Jesse refuse to give up on what they each think is rightfully theirs. While Jesse is struggling to face the consequences of his actions, Quincannon has laid his past demons to rest and is hellbent on moving forward and putting Annville on the map again. Despite a…
What They Said: Favorite Quotes from Supergirl "Worlds Finest"
Oh, Supergirl. That ending was cold. But I can't hate on you because the latest episode has quickly become one of my favorites.
What They Said: Top 4 Quotable Moments from Black Sails "XXIII"
The dialogue in "XXIII" is phenomenal. It's always a fun ride when Black Sails carries its viewers along without giving them the chance to catch their breath. When an episode moves at this unforgiving pace, there is no chance for a breather nor is there a respite from the information…
What Lucifer Said: Favorite quotes from Supernatural "O Brother, Where Art Thou?"
Supernatural episodes are almost always funny but thanks to the dialogue and a certain man speaking said dialogue, I laughed a lot during "O Brother, Where Art Thou?" You know, when I wasn't busy fearing for Sam's life or wondering what in the world was going on with Dean and…
What They Said: The Flash, "Legends Of Today" and Arrow, "Legends Of Yesterday"
Two nights of Arrow + The Flash = what more could we ask for?! I don't know what it is about blending these shows, but I can't help but feel that every time they come together, they somehow become greater than the sum of their parts. And that's saying a lot…
What they Said: Top 4 Quotable Moments from Graceland "Little Bo Bleep"
Shoot outs. Fake outs. And long-awaited revelations. "Little Bo Bleep" was a jam-packed episode that wrapped up some loose ends and totally frayed others. Â It finally gave us one Sarkissian in jail and pulled back the curtain on Briggs' master plan, but it also set up Jakes for a world…
What They Said: Favorite Quotes from Poldark "Part 4"
"What have I told you, I don't require my wife to crochet and sip tea, but I do require her to remember she's not a beast of burden." No, I'm not talking about The Rolling Stones! I have to admit though, just for a second, the lyrics popped into my…
3 Moments of Goodness from Brooklyn Nine-Nine "Johnny and Dora"
The most satisfying part of this season's finale has to the Jake and Amy kiss. Well, they kiss three times but the last one is the best one — and it means something. The Charles and Rosa dynamic was also great. I love how she's convinced he doesn't know anything…