WARNING: Supergirl S2 finale spoilers
Apparently, we're not the only ones pumped for Wonder Woman, which hits theaters this summer. Supergirl and friends (and one of her enemies) are too.
During last night's Supergirl finale, a special promo celebrating the upcoming movie aired starring Melissa Benoist (as Supergirl and Kara Danvers), Chyler Leigh (Alex Danvers) and a couple of other season two faces: Teri Hatcher, who played Mon-El's mother, the villainous Rhea; and Lynda Carter who appeared in the finale as (alien) President Olivia Marsdin. Of course, we know and love Hatcher and Carter for two of their other super small screen roles — namely, Lois Lane and Diana Prince/Wonder Woman.
The 30-second spot was set to Olivia Holt's version of Nancy Sinatra's "These Boots are Made for Walking" and featured the four women sporting some fierce boots. Kara's in particular were pretty fab — she claimed she borrowed them from a friend and then did her best Wonder Woman / crossed arm move.  We approve.
The only way this could have been better is if Gal Gadot aka the big screen Wonder Woman had made a cameo and showed up at National City's alien bar to join in on the fun.
Here's an extended 45-second version of the promo: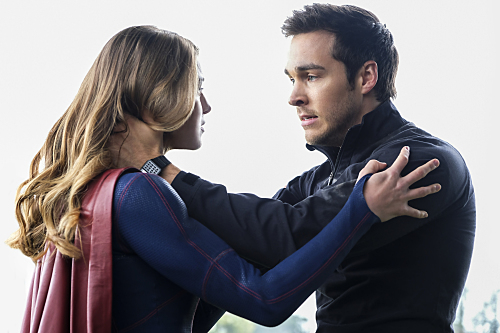 In Supergirl's finale, "Nevertheless, She Persisted," Kara defeated Rhea but had to pay a huge consequence. Mon-El was forced to leave the earth because of a lead-tinged atmosphere that was deadly toxic to all Daxamites.
In the end, Supergirl went after Mon-El, the man she finally said she loved. Unfortunately, his ship was forced into some other dimension or wherever that portal took him. Alex asked Maggie to marry her (we never heard her answer); and Cat, for the moment, is back sitting behind her desk at CatCo.
Supergirl soars back to the CW this fall for season three. Meanwhile, Wonder Woman debuts in theaters Friday, June 2.
Related posts
Catching Up with Ted Lasso and Previewing Season 2
[Warning: General spoilers ahead.] The not so dirty little secret about how I approach a new series is that I sometimes make a call based on the headspace I'm in at the time. It's been a minute since I've picked up a show after the first season and then binge…
Interview: Henri Esteve on Grown-ish Season 3
An interview with Henri Esteve, who plays Javi on Freeform's Grown-ish. He talks about his season three experience.
For All Mankind Season 2: Talking with Wrenn Schmidt, Krys Marshall, Jodi Balfour, and Sonya Walger [Exclusive]
[Warning: General spoilers ahead.] One of the hooks of For All Mankind is that it's very much a story about the women of NASA. In Season 2, we explore the journeys of the women in the program, either through their own service or through their family affiliations. Four of those…
Rosy McEwen Talks The Alienist: Angel of Darkness Season Finale [Exclusive]
[Warning: Spoilers for the season finale episodes.] How's everyone after that finale? I will freely admit I got a little misty in episode eight as John told Sara why he loved her, and later that he wanted her despite what he might forfeit, and then at the end when he…
Rosy McEwen Talks The Alienist: Angel of Darkness [Exclusive]
Hands down, one of the best surprises of The Alienist: Angel of Darkness is that the serial killer this season has been front and center alongside the cast as a fully-formed character. We've watched Libby Hatch devolve from a prim, mild-mannered nurse to a woman in a rage hell-bent on…
The Alienist: Angel of Darkness Relationship Recap: John and Sara
[Warning: Spoilers for "Belly of the Beast" and "Memento Mori"] If you've read me for a while (thank you!), you know two things — I lean way, way in on the characters I adore and I loathe love geometry arcs. So, I'm torn about where we are and where we…
Louriza Tronco Talks The Order Season 2 [Exclusive]
[Warning: Spoilers ahead for Season 2.] The Order's second season is dark yet delightful entertainment on many levels, and one of its biggest sources of joy and snark is the sassy Gabrielle Dupres. Last season, she was assertive and deadly and fairly annoyed with the world. This season, she's been…
Previewing Netflix's Virgin River
[Warning: General spoilers ahead.] Full disclosure: I have a Netflix account for my Mom, but I'm not a regular viewer. If I get a heads up on something, I'll go look for it, but I don't have a wander across its offerings, which, as I understand it, is how most…
Final Thoughts From the Killjoys Team [Exclusive]
This is the day of the week I'd normally hit you up with a Killjoys preview, but now that we've put the series to bed and released Team Awesome Force into the wild, I have one more treat for you–some final thoughts excerpted from my conversations with the Killjoys folks….
Michelle Lovretta Talks Wrapping Up Killjoys [Exclusive]
[Warning: Spoilers for the series finale.] To quote Miss Jackson, "That's the end?" Yes, friends, it is. And like I promised you, everything would be, was, and is alright. I went to the Killjoys source, series creator Michelle Lovretta, who wrote the last episode, to break down that delicious finale….
What They Said: Three Revealing Conversations from Survivor's Remorse "Closure"
WARNING: Spoilers for Survivor's Remorse "Closure" The latest episode of Starz's Survivor's Remorse featured conversations that showed characters really digging deep into their thoughts, emotions and motivations.
Two Takes: The Catch "The Knock-Off"
Who can you trust? If this episode of The Catch was any indication, the answer is just about nobody. Betrayal was running rampant as Felicity (Shivani Ghai) arose from the dead to seduce-con Margot, Gretchen (Maria Thayer, Gotham, The Mindy Project) played gold-hearted Alice 2.0 before swindling Ethan, Tessa jumped…
What They Said: Top 3 Quotable Moments from Preacher "El Valero"
Both Quincannon and Jesse refuse to give up on what they each think is rightfully theirs. While Jesse is struggling to face the consequences of his actions, Quincannon has laid his past demons to rest and is hellbent on moving forward and putting Annville on the map again. Despite a…
What They Said: Favorite Quotes from Supergirl "Worlds Finest"
Oh, Supergirl. That ending was cold. But I can't hate on you because the latest episode has quickly become one of my favorites.
What They Said: Top 4 Quotable Moments from Black Sails "XXIII"
The dialogue in "XXIII" is phenomenal. It's always a fun ride when Black Sails carries its viewers along without giving them the chance to catch their breath. When an episode moves at this unforgiving pace, there is no chance for a breather nor is there a respite from the information…
What Lucifer Said: Favorite quotes from Supernatural "O Brother, Where Art Thou?"
Supernatural episodes are almost always funny but thanks to the dialogue and a certain man speaking said dialogue, I laughed a lot during "O Brother, Where Art Thou?" You know, when I wasn't busy fearing for Sam's life or wondering what in the world was going on with Dean and…
What They Said: The Flash, "Legends Of Today" and Arrow, "Legends Of Yesterday"
Two nights of Arrow + The Flash = what more could we ask for?! I don't know what it is about blending these shows, but I can't help but feel that every time they come together, they somehow become greater than the sum of their parts. And that's saying a lot…
What they Said: Top 4 Quotable Moments from Graceland "Little Bo Bleep"
Shoot outs. Fake outs. And long-awaited revelations. "Little Bo Bleep" was a jam-packed episode that wrapped up some loose ends and totally frayed others. Â It finally gave us one Sarkissian in jail and pulled back the curtain on Briggs' master plan, but it also set up Jakes for a world…
What They Said: Favorite Quotes from Poldark "Part 4"
"What have I told you, I don't require my wife to crochet and sip tea, but I do require her to remember she's not a beast of burden." No, I'm not talking about The Rolling Stones! I have to admit though, just for a second, the lyrics popped into my…
3 Moments of Goodness from Brooklyn Nine-Nine "Johnny and Dora"
The most satisfying part of this season's finale has to the Jake and Amy kiss. Well, they kiss three times but the last one is the best one — and it means something. The Charles and Rosa dynamic was also great. I love how she's convinced he doesn't know anything…