Every new show invariably faces the daunting needs-must task of engaging an audience quickly in its plot while providing sufficient (but not overwhelming) backstory, character development, and intriguing foreshadowing to make it stand-out in the sea of choice a television viewer is presented with daily. Understanding these challenges, start-up shows ideally should be given the "Three Episode Trial", allowing them the time to find their footing and prove themselves worthy of our time and attention.
Braindead has been a lovely summer surprise throughout its trial period, skillfully combining a rather preposterous premise – mind-controlling bugs from space – with a motley mix of well-drawn core characters – both personable and flawed – and utilizing clever devices to simultaneously hold the hand of new viewers (cue opening musical recap montage) and entice those who have been watching from the beginning with potential plot twists. In Episode 3, the show really solidifies what audiences can expect from it – a rapid pace of action, a sizzling satire, a sense of the absurd, and genuine relationship dynamics.
To date, we have witnessed the meteor crashing, the alien insects mobilizing, two exploding heads, and a government shut-down. We've met our hero, Laurel, the documentary-making fish out of political waters; romantic interest, Gareth, the well-intentioned but D.C.-savvy Republican henchman; doctor, Rochelle, deeply invested in finding out what caused her father's head to explode; and conspiracy theorist/everything savant, Gustav, also witness to a C.H.I. (Catastrophic Head Injury), who has figured out most of what the audience knows about the bugs.
Episode 3, like the previous episodes, has a beautifully ridiculous and insanely clever title – "Goring Oxes: How You Can Survive the War on Government in Five Easy Steps". These titles are a tip of the hat to Laurel's documentary-making background but also hint towards the episode's overarching theme.
Step One: Make Peace with Your Opponents
After calling for Luke's replacement as Democratic party whip in the last episode, Senator Ella Pollack (Jan Maxwell, Gossip Girl) phones him at the start of this episode to thank him after receiving some lovely (alien-bug-infested) flowers sent by Luke's lovely (alien-bug-controlled) Chief of Staff, Scarlett.
Meanwhile, Luke is on the Crossfire-esque political debate program, DoubleSpeak, with Senator Wheatus' Chief of Staff, Jonathan Broadbent (Nick Sullivan, Madam Secretary) who is participating from a remote location. Broadbent loses his train of thought a couple of times, prompting the show's producer to order him a glass of water which isn't much help when Broadbent's head suddenly explodes.
Step Two: Keep Your Story Straight
Laurel is visited again by the likeable F.B.I. Agent Onofrio, this time with another (less likeable) Agent Blades (Glenn Fleshler, Hannibal) who grills her on Dr. Daudier's death. When questioned, Onofrio lets slip that another exploding head incident had occurred.
Photo Credit: Michael Parmalee/CBS
Hearing that the incident had killed "Red Wheatus' man" on DoubleSpeak, Laurel assumes it was Gareth and rushes to Senator Wheatus' office, distraught. Finding him very much alive, she informs him of Broadbent's death, news of which is just reaching the offices but the official story is he died of a stroke.
Cut to the Democrats and a suddenly rejuvenated and energetic Senator Maxwell hijacks Luke's speech to state in the strongest terms possible her vision for the party, accusing Luke of appeasing the Republicans when the Democrats should be taking back power in an aggressive and uncompromising manner. Poor Luke is caught off-guard by her fervent attack.
Step Three: Listen Carefully
Back at work as Luke's constituent case worker, Laurel meets "Doctor Bob Bob" who seems more interested in her (and her email address) than anything Senator Healy can do for him.
Also back at work, Gareth finds himself promoted to Senator Wheatus' Chief of Staff and given yet another opportunity to demonstrate his political acumen by spearheading the Republican campaign to see Luke Healy unemployed.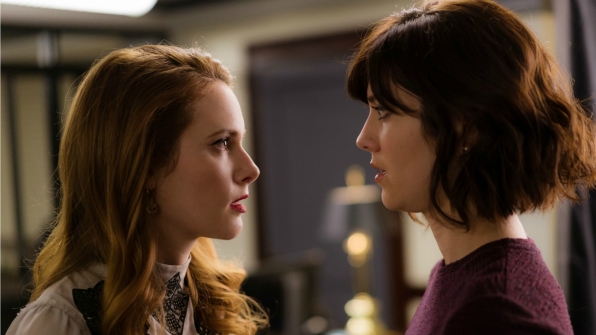 In Luke's office, Scarlett confronts Laurel, ostensibly over some lovely (alien-bug-infested) cherry blossom boughs, and whispers menacingly "You're outnumbered…by the people you're outnumbered by." (Side note: most alien-infestations have improved the host's physical and intellectual abilities. Scarlett appears to be the exception.)
Outside Luke's office, Gustave makes contact, shedding his "Doctor Bob" disguise to discuss the bug problem. Being a consummate conspiracy theorist, Gustave draws Laurel's attention to some unusual behaviours by individuals close by which convinces Laurel that he's nuts. However, upon returning to the offices, she is attracted by the sound of The Cars' "You Might Think" blaring from Senator Maxwell's office and catches sight of Scarlett and Ella in discussion.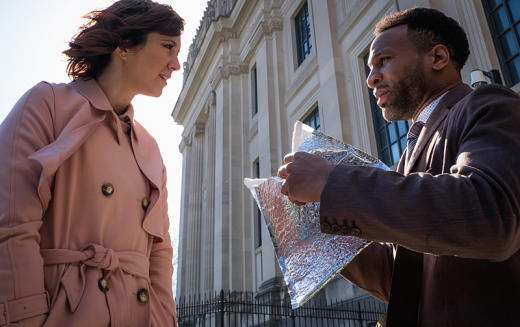 Step Four: Use What (and Who) You Know (and Knew)
To help Luke combat the Ella threat, Laurel warns him away from Scarlett (who, as it turns out, can lip read) and calls up her old friend Stacie (Nikiya Mathis, The Good Wife) to help plant a story about Ella. When they meet, Laurel immediately suspects that whatever caused Abby's personality change has also gotten to Stacie. Remembering Gustave's information that the bug-effect could be negated by appealing to a person's memories, Laurel begins reminiscing about their college days while Stacie persists in spouting statistics about Scandinavian socialism. As Laurel starts to get through, Stacie begins bleeding from the ear and then runs away.
Convinced now that Gustave may be nuts but may still be on to something, Laurel brings him and Rochelle together to examine the CAT scan images from his friend's head explosion. Once they've found what could be a lead, Rochelle continues investigating from the hospital while Gustave goes home to set traps for the bugs. Scooby Gang, activated!
Gareth and Laurel meet at Broadbent's wake for drinks where Gareth is able to hook her up with a reporter to leak the story meant for Stacie. While she's completing her mission, Senator Wheatus calls Gareth and sets in motion a grassroots appeal campaign which spells trouble for the Democrats. Work done, they have a few drinks, discuss how they can get more political tongues wagging, and share a romantic moment. Laurel flees the scene shortly afterwards.
The next day, Luke's story about Ella hits the news cycle first but her strike-back is far worse, leaking information of Luke's affair with Scarlett which devastates his pregnant wife, Germaine (Lily Cowles, Enchantments). Laurel gets sent in to do damage control with the female senators but her success is cut short when she is apprehended by the F.B.I. for more questioning about the rash of recent C.H.I.s. Luke rides to her rescue thanks to some intel from Agent Onofrio.
Step Five: Go Big or Go Home
The episode leaves us with all sorts of on-ramps going into the Fourth of July hiatus.
Red Wheatus has instructed Gareth to create their own grassroots group, the One-Wayers, to push Republican interests.
Ella and Scarlett continue to push their fanatical and sinister goals to create an extremist Democratic agenda.
Laurel now has two potential love interests – Gareth & Agent Onofrio
Agent Blades's extremist actions may be a sign of alien-infection… or he might be a controlling jerk by nature. Either way, it feels like the F.B.I. are going to be a problem.
Gustave's cat is most probably alien-bug-controlled now.
BrainDead airs Monday nights at 10/9c on CBS.
Diana Keng
Diana is a grassroots television geek living in the wilds of Vancouver, Canada where her day job takes her to the borders of Storybrooke and her home life exists within the borders of Star City and Central City. She grew up on the sitcoms and dramas of TV's Golden Age and devouring the fantasy, romance, and science-fiction novels of the pre-Internet world. She is passionate about intelligent, fun, character-driven shows with strong production value.
Related posts
Catching Up with Ted Lasso and Previewing Season 2
[Warning: General spoilers ahead.] The not so dirty little secret about how I approach a new series is that I sometimes make a call based on the headspace I'm in at the time. It's been a minute since I've picked up a show after the first season and then binge…
Interview: Henri Esteve on Grown-ish Season 3
An interview with Henri Esteve, who plays Javi on Freeform's Grown-ish. He talks about his season three experience.
For All Mankind Season 2: Talking with Wrenn Schmidt, Krys Marshall, Jodi Balfour, and Sonya Walger [Exclusive]
[Warning: General spoilers ahead.] One of the hooks of For All Mankind is that it's very much a story about the women of NASA. In Season 2, we explore the journeys of the women in the program, either through their own service or through their family affiliations. Four of those…
Rosy McEwen Talks The Alienist: Angel of Darkness Season Finale [Exclusive]
[Warning: Spoilers for the season finale episodes.] How's everyone after that finale? I will freely admit I got a little misty in episode eight as John told Sara why he loved her, and later that he wanted her despite what he might forfeit, and then at the end when he…
Rosy McEwen Talks The Alienist: Angel of Darkness [Exclusive]
Hands down, one of the best surprises of The Alienist: Angel of Darkness is that the serial killer this season has been front and center alongside the cast as a fully-formed character. We've watched Libby Hatch devolve from a prim, mild-mannered nurse to a woman in a rage hell-bent on…
The Alienist: Angel of Darkness Relationship Recap: John and Sara
[Warning: Spoilers for "Belly of the Beast" and "Memento Mori"] If you've read me for a while (thank you!), you know two things — I lean way, way in on the characters I adore and I loathe love geometry arcs. So, I'm torn about where we are and where we…
Louriza Tronco Talks The Order Season 2 [Exclusive]
[Warning: Spoilers ahead for Season 2.] The Order's second season is dark yet delightful entertainment on many levels, and one of its biggest sources of joy and snark is the sassy Gabrielle Dupres. Last season, she was assertive and deadly and fairly annoyed with the world. This season, she's been…
Previewing Netflix's Virgin River
[Warning: General spoilers ahead.] Full disclosure: I have a Netflix account for my Mom, but I'm not a regular viewer. If I get a heads up on something, I'll go look for it, but I don't have a wander across its offerings, which, as I understand it, is how most…
Final Thoughts From the Killjoys Team [Exclusive]
This is the day of the week I'd normally hit you up with a Killjoys preview, but now that we've put the series to bed and released Team Awesome Force into the wild, I have one more treat for you–some final thoughts excerpted from my conversations with the Killjoys folks….
Michelle Lovretta Talks Wrapping Up Killjoys [Exclusive]
[Warning: Spoilers for the series finale.] To quote Miss Jackson, "That's the end?" Yes, friends, it is. And like I promised you, everything would be, was, and is alright. I went to the Killjoys source, series creator Michelle Lovretta, who wrote the last episode, to break down that delicious finale….
What They Said: Three Revealing Conversations from Survivor's Remorse "Closure"
WARNING: Spoilers for Survivor's Remorse "Closure" The latest episode of Starz's Survivor's Remorse featured conversations that showed characters really digging deep into their thoughts, emotions and motivations.
Two Takes: The Catch "The Knock-Off"
Who can you trust? If this episode of The Catch was any indication, the answer is just about nobody. Betrayal was running rampant as Felicity (Shivani Ghai) arose from the dead to seduce-con Margot, Gretchen (Maria Thayer, Gotham, The Mindy Project) played gold-hearted Alice 2.0 before swindling Ethan, Tessa jumped…
What They Said: Top 3 Quotable Moments from Preacher "El Valero"
Both Quincannon and Jesse refuse to give up on what they each think is rightfully theirs. While Jesse is struggling to face the consequences of his actions, Quincannon has laid his past demons to rest and is hellbent on moving forward and putting Annville on the map again. Despite a…
What They Said: Favorite Quotes from Supergirl "Worlds Finest"
Oh, Supergirl. That ending was cold. But I can't hate on you because the latest episode has quickly become one of my favorites.
What They Said: Top 4 Quotable Moments from Black Sails "XXIII"
The dialogue in "XXIII" is phenomenal. It's always a fun ride when Black Sails carries its viewers along without giving them the chance to catch their breath. When an episode moves at this unforgiving pace, there is no chance for a breather nor is there a respite from the information…
What Lucifer Said: Favorite quotes from Supernatural "O Brother, Where Art Thou?"
Supernatural episodes are almost always funny but thanks to the dialogue and a certain man speaking said dialogue, I laughed a lot during "O Brother, Where Art Thou?" You know, when I wasn't busy fearing for Sam's life or wondering what in the world was going on with Dean and…
What They Said: The Flash, "Legends Of Today" and Arrow, "Legends Of Yesterday"
Two nights of Arrow + The Flash = what more could we ask for?! I don't know what it is about blending these shows, but I can't help but feel that every time they come together, they somehow become greater than the sum of their parts. And that's saying a lot…
What they Said: Top 4 Quotable Moments from Graceland "Little Bo Bleep"
Shoot outs. Fake outs. And long-awaited revelations. "Little Bo Bleep" was a jam-packed episode that wrapped up some loose ends and totally frayed others. Â It finally gave us one Sarkissian in jail and pulled back the curtain on Briggs' master plan, but it also set up Jakes for a world…
What They Said: Favorite Quotes from Poldark "Part 4"
"What have I told you, I don't require my wife to crochet and sip tea, but I do require her to remember she's not a beast of burden." No, I'm not talking about The Rolling Stones! I have to admit though, just for a second, the lyrics popped into my…
3 Moments of Goodness from Brooklyn Nine-Nine "Johnny and Dora"
The most satisfying part of this season's finale has to the Jake and Amy kiss. Well, they kiss three times but the last one is the best one — and it means something. The Charles and Rosa dynamic was also great. I love how she's convinced he doesn't know anything…