Series premieres often suffer from an overwhelming onslaught of exposition, establishing characters and setting at the expense of plot and action. Happily, Robert and Michelle King, the veteran team that brought us The Good Wife (R.I.P.), which raised the bar on "showing not telling" in the legal drama's seven seasons on the air, have once again sculpted a program that manages to keep us intrigued, laughing, and slightly squirmy all while setting up backstories and foreshadowing with precision expertise.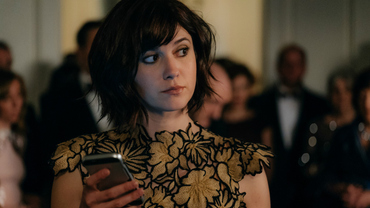 The smart moves begin with an opening montage of news clips, political sound bites, and dashboard cam footage that paint with broad strokes the craziness in the world today while implying the introduction of something quite foreign and possibly sinister. Focusing in on D.C., we meet our eyes-and-ears character first, documentary filmmaker Laurel Reed (Mary Elizabeth Winstead, Mercy Street), as she handles family, political groupies, and financial crises at a family dinner party. Her brother, Luke (Danny Pino, Law & Order: SVU), is the Democratic party whip and her father (played by "always-the-smartest-man-in-the-room" Zach Grenier, The Good Wife) is a D.C. insider of the highest order.
Having left the world of politics to the rest of her family, Laurel views the Washington D.C. landscape with the eye of one who knows it too well to want to be a part of it. Nonetheless, she strikes a deal with her father which commits her to six months in her brother's office, meeting with constituents and addressing their concerns, in order to secure funding for her next film project.
And it is her keen filmmaker's eye that moves the story forward when it could become sidetracked by the foibles of the political players, idiosyncratic constituents, and interpersonal issues. As the Senate moves into a government shutdown, enter Gareth Ritter (Aaron Tveit, Graceland), Guy Friday to Republican Senator Red Wheatus (Tony Shalhoub, Monk), a perpetually inebriated and hormonal "old-school" politician.
Gareth is looking to puppeteer an end to the government shutdown and approaches Laurel as "the sister" rather than in her capacity as a staffer, thinking it'll be more covert and convincing. Together, they manage to bring the two sides together on a handshake deal which would have worked if the aliens hadn't interfered.
Oh, did I forget to mention the aliens? Right, so a meteorite lands in Russia at the beginning of the episode. As we meet Luke Reed in Laurel's opening scenes, he's on the phone, telling a Smithsonian scientist that he'll need to find a cheaper way to recover this meteorite.
As Laurel begins meeting with Luke's constituents, she is approached by the wife of a sailor (Nilaja Sun, Madam Secretary) who claims her husband has come back different after he was attacked by "something" being transported in a container for the Smithsonian. When Laurel goes to investigate, her "spidey" senses are tripped by the odd, uniform response from everyone aboard the ship and how everyone seems to be staring at her.
The aliens are parasitic insects that infect the human hosts by taking over their brain. If you let them. If you fight the invasion, they cause your head to explode instead. Yeah. Again, the fact that everything we know about the aliens is seamlessly shuffled into Laurel's first few days of work without tedious exposition is a tribute to the writers' skill and some innovative camera work, utilizing security feeds and television clips shown in the background, echoing the documentary film style that Laurel would use in her profession.
So what do we have with BrainDead so far? We have a political thriller with an actual alien threat (which has a penchant for The Cars' music) tied in with the real-life insanity of the current election issues and personalities. We have a rather delightful melding of The West Wing with Mars Attacks! (1996) and shades of Evolution (2001) thrown in for a little "ick" factor.
It's an ambitious project to be sure, balancing the threat of mass mind-control with the rather surreal invasion from space. We have humorous, flawed characters with realistic relationships and dilemmas. We have an industry outsider who may be the only one able to look closely enough at what's going on around her to save the world. I look forward to meeting the rest of this Scooby gang and seeing who breaks out the first can of Raid(TM) and whoop-ass on these buggers.
BrainDead airs Monday nights on CBS.
Diana Keng
Diana is a grassroots television geek living in the wilds of Vancouver, Canada where her day job takes her to the borders of Storybrooke and her home life exists within the borders of Star City and Central City. She grew up on the sitcoms and dramas of TV's Golden Age and devouring the fantasy, romance, and science-fiction novels of the pre-Internet world. She is passionate about intelligent, fun, character-driven shows with strong production value.
Related posts
Alison Sweeney Talks About What's Next for Hannah and Mike After Carrot Cake Murder: A Hannah Swensen Mystery
[Warning: Spoilers for Carrot Cake Murder.] Everybody OK after that Hannah Swensen Mystery twist? Thankfully, our favorite crime-solving couple is still on speaking term, even if they're on a break (hopefully not that kind of break). Most importantly, we already know this isn't the last film in the series. No…
Counting Down to From Season 2
[Warning: General spoilers ahead.] We're just shy of two weeks away from Season 2 of last spring's obsession, From, which premieres at 9 pm/8c, Sunday, April 23rd, on MGM+ (formerly EPIX). If you never picked it up last year, now's your chance, and you can do it for free, catching…
Thank Me Later: Will Trent
[Warning: spoilers ahead.] I'm on record as loving and losing shows over at ABC so I'm usually very reticent to pick something up on the network until it's been renewed, and I seriously hope I'm not jinxing it, but I took a chance on the deeply odd and very sweet…
Dennis Heaton Talks The Imperfects
Longtime readers at TV Goodness will know that Motive is one of my ride-or-die series, and as such, I am fiercely loyal to its creator, Dennis Heaton. He followed up that fantastic reverse procedural with Netflix's The Order and is back on our streaming screens with The Imperfects, which dropped…
Kelly McCormack Talks Favorite Moments in A League of Their Own
[Warning: Mild spoilers for season 1.] Now that you've had a chance to watch A League of Their Own, here's the rest of my chat with Kelly McCormack about her favorite moments of the season. Seeing the iconic Peaches uniforms for the first time wasn't just a goosebump moment for…
John Griffin and Harold Perrineau Talk From Season 1 Finale
[Warning: General spoilers ahead.] How are we doing, #FROMily? In case you missed it this morning, the very good news is that that cliffhanger will be followed by a second season, which was gifted this morning ahead of the linear broadcast of the finale. I always legitimately appreciate when we…
Elizabeth Saunders Talks From
[Warning: General spoilers ahead.] One of the things that makes EPIX's From such a fun ride is the abundance of Canadian cast members. Elizabeth Saunders, who plays Donna, is a favorite from her turn on the third season of Mary Kills People [streaming on Global TV in Canada and Roku…
Corteon Moore Talks From "Broken Windows, Open Doors"
[Warning: Spoilers for tonight's episode.] Tonight's episode of From had us all in our feels as we learned through flashbacks about the Sophie's Choice Boyd had to make to save his son, and back in the present as Boyd said his piece with Ellis before heading into the woods with…
Pegah Ghafoori Talks From "All Good Things…"
[Warning: Spoilers for tonight's episode] Tonight on From, Fatima's anniversary celebration turned into a Colony House of horrors when a misguided Kevin let his monster bae in and she promptly killed him and left the window open for her crew. While the party devolved into terror and sent everyone running,…
Shaun Majumder Talks From "Book 74"
[Warning: Spoilers for tonight's episode.] Tonight on EPIX's From, Father Khatri made a bold move, kidnapping Sara instead of turning her in, and then recognizing her as a vessel for some big messages. That startling realization speaks to him on multiple levels–as a man of faith, a man trapped in…
What They Said: Three Revealing Conversations from Survivor's Remorse "Closure"
WARNING: Spoilers for Survivor's Remorse "Closure" The latest episode of Starz's Survivor's Remorse featured conversations that showed characters really digging deep into their thoughts, emotions and motivations.
Two Takes: The Catch "The Knock-Off"
Who can you trust? If this episode of The Catch was any indication, the answer is just about nobody. Betrayal was running rampant as Felicity (Shivani Ghai) arose from the dead to seduce-con Margot, Gretchen (Maria Thayer, Gotham, The Mindy Project) played gold-hearted Alice 2.0 before swindling Ethan, Tessa jumped…
What They Said: Top 3 Quotable Moments from Preacher "El Valero"
Both Quincannon and Jesse refuse to give up on what they each think is rightfully theirs. While Jesse is struggling to face the consequences of his actions, Quincannon has laid his past demons to rest and is hellbent on moving forward and putting Annville on the map again. Despite a…
What They Said: Favorite Quotes from Supergirl "Worlds Finest"
Oh, Supergirl. That ending was cold. But I can't hate on you because the latest episode has quickly become one of my favorites.
What They Said: Top 4 Quotable Moments from Black Sails "XXIII"
The dialogue in "XXIII" is phenomenal. It's always a fun ride when Black Sails carries its viewers along without giving them the chance to catch their breath. When an episode moves at this unforgiving pace, there is no chance for a breather nor is there a respite from the information…
What Lucifer Said: Favorite quotes from Supernatural "O Brother, Where Art Thou?"
Supernatural episodes are almost always funny but thanks to the dialogue and a certain man speaking said dialogue, I laughed a lot during "O Brother, Where Art Thou?" You know, when I wasn't busy fearing for Sam's life or wondering what in the world was going on with Dean and…
What They Said: The Flash, "Legends Of Today" and Arrow, "Legends Of Yesterday"
Two nights of Arrow + The Flash = what more could we ask for?! I don't know what it is about blending these shows, but I can't help but feel that every time they come together, they somehow become greater than the sum of their parts. And that's saying a lot…
What they Said: Top 4 Quotable Moments from Graceland "Little Bo Bleep"
Shoot outs. Fake outs. And long-awaited revelations. "Little Bo Bleep" was a jam-packed episode that wrapped up some loose ends and totally frayed others. Â It finally gave us one Sarkissian in jail and pulled back the curtain on Briggs' master plan, but it also set up Jakes for a world…
What They Said: Favorite Quotes from Poldark "Part 4"
"What have I told you, I don't require my wife to crochet and sip tea, but I do require her to remember she's not a beast of burden." No, I'm not talking about The Rolling Stones! I have to admit though, just for a second, the lyrics popped into my…
3 Moments of Goodness from Brooklyn Nine-Nine "Johnny and Dora"
The most satisfying part of this season's finale has to the Jake and Amy kiss. Well, they kiss three times but the last one is the best one — and it means something. The Charles and Rosa dynamic was also great. I love how she's convinced he doesn't know anything…