WARNING: Mild spoilers
We've been making our list and checking it twice (or, you know, much more than twice). It took a village but our team created a guide to 21 of the new and returning shows we're really excited about in early 2016. Good TV is the reason to watch this mid-season! Is that a saying? No? Well, it should be. There are probably a ton more shows we can add to this already massive list. But here's what made the cut.
Downton Abbey, January 3
It's the sixth and final season and we couldn't be more excited. Time marches on for the Crawley clan as well as the staff at Downton Abbey. Not only does it look like Mary has finally met her match, but perhaps it's also time for Edith to have some lasting luck in love. Are the Dowager and Isobel fated to become enemies once again? What will become of all the staff as things continue to change at Downton? Will Bates and Anna FINALLY catch a break and be able to start a family?! We have so many questions and we can't wait to see how it all plays out. Here's a first look:
The final season of Downton Abbey premieres Sunday, January 3 at 9/8c on PBS.
Galavant, January 3
Galavant finally makes a triumphant return to primetime with Season 2. Okay, we might be slightly exaggerating by using the word "triumphant," but this musical comedy sure is a fun way to spend an hour of your time (a double shot of episodes airs Sunday nights for five consecutive weeks). The new season features a trapped princess (Isabella) and her one true love hoping to save her (Galavant). The road to rescue promises to be bumpy, silly, funny and musical and that's good enough for us. Timothy Omundson, who plays the hilariously insecure and sometimes idiotic King Richard, excels as the ruler with no kingdom. Oh, and in one of the premiere episodes, the king and Galavant make a pit stop at a bar called The Enchanted Forest Pub, which is located in a land called West Hollow-wood, where Kylie Minogue is The Queen. You have to adore a show where the songs are deliciously self-aware and the jokes are abundant.
Galavant sings its way into your homes starting Sunday, January 3 at 8/7c.
The Shannara Chronicles, January 5
Until Game of Thrones returns, some fantasy lovers might want to rely on Freeform's Shadowhunters and MTV's The Shannara Chronicles to get them through the last of the GoT hiatus. We'll talk Shadowhunters in a bit. Let's focus on The Shannara Chronicles, which is based on a series of books — as these types of shows always seem to be. Â The buzz is already labeling this TV version a winner. Thousands of years in the future — after the fall of Humankind — it's up to an Elvin Princess, a Human Rover and a half-elf to save the world. Austin Butler, who often plays the boyfriend on various series, gets to take the lead this time around and we couldn't be more excited. Joining Butler and his co-stars Poppy Drayton and Ivana Baquero are a couple of familiar faces: John Rhys-Davies (Raiders of the Lost Ark, Lord of the Rings) and Manu Bennett (Arrow).
The Shannara Chronicles begin Tuesday, January 5 at 10/9c on MTV.
Man Seeking Woman, January 6
We don't think you have enough surrealist humor in your life and we've got just the show to change that: Man Seeking Woman. If you already watch, you know how quirky and funny and strange this show is. If you aren't watching, you're missing something really special. At the heart of the series is Josh Greenberg, who's just looking for love and unfortunately for him, the stakes are life-and-death. He soldiers through foolish texts, awkward dates, cloning disasters, man-on-car sex, hundreds of deaths, and worst of all, a season-long love triangle with his bestie. There to help and/or mostly hurt him are his confident and daring BFF Mike and his intimidating older sister Liz.
Season 2 of Man Seeking Woman premieres Wednesday, January 6 at 10:30/9:30c on FXX.
Shadowhunters, January 12
Okay, so we're not excited to start calling ABC Family — Freeform. What we are excited about is a new show set to air on this hip new crazysexycool channel. Shadowhunters is based on a young adult series of books (The Mortal Instruments). We are about anything that satiates our need for fantasy on TV. There's just not enough of it. That's the story we're sticking to. Human-angel hybrids, demons and demon hunters? Faeries, warlocks, vampires and werewolves? Yes, please. Add Glee's Harry Shum, the supercute Matthew Daddario, and the always scrumptious Isaiah Mustafa into the mix and just try to stop us from watching. We're looking forward to getting to know this entire cast of characters and the actors who play them.
Start exploring the dark new world of Shadowhunters on Tuesday, January 12 at 9/8c on Freeform/ABC Family.
Second Chance, January 13
An old man gets a second chance after he's killed. A couple of genius twins who own a social networking empire bring him back to life. This is the premise for a new FOX series formerly known as Frankenstein Code and Lookinglass. You can now call it Second Chance, thank you very much. The show has its procedural elements but also has the opportunity to dive down a well of mythology that could be intriguing if it goes there. The cast is full of familiar faces including True Blood's Rob Kazinsky as Jimmy Pritchard, the former disgraced sheriff who now finds himself reborn with superhuman abilities; White Collar's always awesome Tim DeKay as his FBI Agent son, Duval; and there's also Dilshad Vadsaria as Mary Goodwin, one of the supersmart billionaire twins. Her biggest TV credits are Revenge and Greek.
The search for redemption begins when FOX's Second Chance premieres Wednesday, January 13 at 9/8c after American Idol.
Colony, January 14
Consider us on board with any show that reunites former Lost EP Carlton Cuse with one of our favorite actors from Lost — Josh Holloway. Colony's a sci-fi series set in a future where an invasion has happened and the earth is now being occupied. Holloway plays a former FBI Agent who's currently leading a very different life with his family. At the same time, he's on the search for a son that was taken in the invasion. The Walking Dead alum Sarah Wayne Callies stars as his wife. What will these two do to save and protect their family? After watching the pilot, it's going to be interesting to find out where their paths will lead.
The series premiere of Colony occupies time on USA Network starting Thursday, January 14 at 10/9c. Need a little more before the official premiere? Here's what we discovered about the series at Comic-Con.
Mercy Street, January 17
A few things intrigue us when it comes to PBS' Civil War-era drama, Mercy Street. 1) It's based on a true story. 2) According to PBS, it "takes viewers beyond the battlefield and into the lives of a distinctive cast of characters." We are always here for character-driven goodness. 3) The cast. The actors assembled include Mary Elizabeth Winstead (The Returned), Josh Radnor (How I Met Your Mother), Gary Cole (Too many TV credits to list, he's amazing!), McKinley Belcher (Power), Jack Falahee (How to Get Away with Murder), Shalita Grant (NCIS: New Orleans), Cameron Monaghan (Shameless and Gotham) and Luke Macfarlane (Killjoys), who told TV Goodness that "it's essentially an Upstairs, Downstairs story of a hospital. Being a Civil War Buff, I was very excited to live inside this world. It's a fantastic cast."
Mercy Street follows Downton Abbey, The Final Season on Masterpiece starting January 17 at 10/9c, check your local listings for the exact channel.
Billions, January 17
Damian Lewis on Showtime again. All feels right with the world. He's playing a much different character than the seriously messed up Marine he portrayed on Homeland. In Billions, we meet Bobby "Axe" Axelrod (Lewis), a seriously wealthy hedge fund king and Chuck Rhoades (Paul Giamatti), the U.S. Attorney looking to bring Axe down. The all-star cast includes Malin Akerman (The Trophy Wife), Maggie Siff (Mad Men), Jerry O'Connell (Crossing Jordan), Terry Kinney (Oz), Susan Misner (Person of Interest), Condola Rashad (Smash) and David Costabile (Suits). Billions is dark, twisted, vicious, funny, intense and thoroughly watchable. Siff, in particular, is mesmerizing in her role as Rhoades' wife, who's also a valuable asset at Axe's company. Talk about a massive conflict waiting to happen.
Billions unloads on Showtime Sunday, January 17 at 10/9c.
Hit the Floor, January 18
New episodes of VH1's Hit the Floor are finally hitting the airwaves in January. This is huge considering Season 2 ended in dramatic fashion over 15 months ago! We're not sure why we had to wait so long for Season 3. We're just glad it's almost here. After all, viewers now know German killed Olivia. Unfortunately, his girlfriend Ahsha isn't aware of this little tidbit. Will Derek figure it out and get his girl back? Lionel's the new boss of the Devils, which can't mean anything good for Pete and Sloane. Jelena's superpower is causing mayhem. How much pain will she inflict in the new season? Another big reason to tune in — we can't wait to find out what's next for Zero and Jude.
The third season of Hit the Floor premieres Monday, January 18 at 9/8c on VH1.
Marvel's Agent Carter, January 19
With Jessica Jones and Supergirl making big splashes in the female-driven Superhero TV realm as of late, we're beyond excited for Agent Carter's return to primetime for a second season. This time, the action moves to Los Angeles, where the vibe is tres noir and the adventures are sure to be tres fierce. According to ABC, Peggy Carter will tackle "her most dangerous assignment yet. But even as she discovers new friends, a new home — perhaps even a new love — she's about to find out that the bright lights of post-war Hollywood masks a more sinister threat to everyone she's sworn to protect." Sign. Us. Up.
It's lights, camera and, especially action, when Marvel's Agent Carter premieres Tuesday, January 19 at 9/8c on ABC.
DC's Legends of Tomorrow, January 21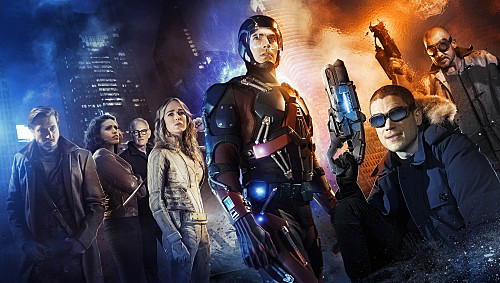 The new mid-season show we might be anticipating the most is the CW's DC's Legends of Tomorrow. Characters introduced on Arrow and The Flash are recruited to be part of an all-star group. Look for them to fight foes like Vandal Savage and time travel while doing so. Doctor Who alum Arthur Darvill is Time Master Rip Hunter, the guy who brings these various personalities together. Team Legends includes Ray Palmer aka the Atom (Brandon Routh), Sara Lance aka White Canary (Caity Lotz), Martin Stein (Victor Garber) and Jefferson "Jax" Jackson (Franz Dameh) aka Firestorm, Kendra Saunders aka Hawk Girl (Ciara Renee), Carter Hall aka Hawkman (Falk Hentschel), Leonard Snart aka Captain Cold (Wentworth Miller) and Mick Rory aka Heat Wave (Dominic Purcell). The fun is in seeing all the personalities adapt to each other. We're expecting most to immediately clash with Snart and Rory since those two were straight-up villains on The Flash. While you're tuning in, get a load of their resident ship aka Waverider. We got the chance to see it in person earlier this year and it is massive and stunning.
The series premiere of DC's Legends of Tomorrow takes off Thursday, January 21 at 8/7c on the CW.
The 100, January 21
When The 100 drops Season 3 into our laps in 2016, it'll be in a great time slot — after DC's Legends of Tomorrow. And bonus: it won't have to go up against ABC's Scandal until February 11. Plus, the NFLÂ will be in playoff mode so the drama won't have to worry about any Thursday night games either. Hopefully, that means a ton of new viewers will get to enjoy a season that's looking to be more epic than ever before. If that's possible. This show has always been dark and intense but watching the extended trailer the CW gifted us with a couple of weeks ago has us extremely excited and extremely scared for all our favorite characters. If you haven't tuned into the first two seasons you still have some time, so get to bingeing. You'll thank us for the suggestion. The 100 is heavy on drama, fierce females, intense action scenes and intelligent, thought-provoking stories and character development. What more could you want in a show?
Season 3 of The 100 lands Thursday, January 21 at 9/8c on the CW.
The X-Files, January 24
We've covered here how ridiculously happy the announcement of a limited six-episode series made us. We've seen the first episode, and it had us grinning from ear to ear the whole time. And when the theme booted up, we got goosebumps and laughed out loud. The series picks up in the present, with a retired Mulder and Scully pulled back into a case that turns everything they thought they knew about the alien conspiracy on its ear. It throws out some chilling, not-terribly preposterous ideas about what's going on in the world. Joel McHale is very good (and tamped down) as a conspiracy theorist who comes calling on the duo. So glad they are back. We need them to set another six up for next fall immediately (fully realizing David Duchovny and Gillian Anderson actually have other jobs).
The X-Files premieres Sunday, January 24 at 10/9c (ish, after the NFC Championship Game) and then will air every Monday at 9/8c on FOX.
Lucifer, January 25
Tom Ellis plays a different kind of Lucifer in the upcoming FOX series of the same name. Yes, this Lucifer is tall, dark and devilishly handsome, but he's also going through something. He's run away from his duties in Hell and is now a rich club owner in L.A. But he's also doing some serious soul-searching and helping people along the way. Wait, there's more. Lucifer meets a cop who's immune to his considerable charms and he's made it his mission to discover why. Meanwhile, Â he's going to therapy, he has to figure out a way to convince his right-hand woman he hasn't changed for the worse, and he has to manage to make his brother believe he's never going home again. Sounds like this fallen angel has a lot on his plate.
Lucifer rises Monday, January 25 at 9/8c.
The Magicians, January 25
Even though we're still crushed that both Haven and Continuum aired its final ever episodes (boo!), some of Syfy's newer series are keeping us entertained. The Expanse is earning decent reviews and as far as we're concerned 12 Monkeys can't be beat. Not sure how we're going to last until April for Season 2 to start but watching The Magicians could be a good way to spend the time. So far we've only seen the pilot but by the end of the episode, we were hooked. With all the shows about vampires, werewolves and other creatures in existence, we're happy to see this one focus on magic. The Magicians introduces viewers to a university far more otherworldly than your average school. According to Syfy, Brakebills University is "a secret institution specializing in magic. There, amidst an unorthdox education of spellcasting, a group of twenty-something friends soon discover that a magical fantasy world they read about as children is all too real— and poses grave danger to humanity."
While Syfy recently aired a sneak peek, The Magicians officially materializes before our very eyes Monday, January 25 at 9/8c.
Suits, January 27
After what went down in the Suits mid-season finale way back in August, there's one big reason to glue yourselves to your flat screens in 2016. Mike Ross was taken out of Pearson Specter Litt in handcuffs. The show is finally going to tackle what's been an elephant in the hallways of our favorite law firm since the beginning of the series. Mike isn't a lawyer. Although he's an excellent fake lawyer. Unfortunately, good intentions aren't going to easily save him. Plus, Harvey quit, remember? It's about to get intense up in here. Not sure how Mike's going to get out of this predicament. It's going to require the entire team to work together. You hear that Harvey and Louis? Leave your baggage at the door. Time to clear up this matter of Mike being a fraud once and for all. It won't be easy. We're thinking there's going to be some collateral damage because this isn't just about Mike. And it's not just about his relationships. This is something that can bring down a firm. And we all love Pearson Specter Litt too much for that to happen. There's also the big question of who turned Mike in. The list of people who sold Mike out is loooooong. Watch Mike's arrest again:
Suits Season 5B premieres Wednesday, January 27 at 10/9c on USA Network.
Sleepy Hollow, February 5
FOX's Sleepy Hollow left us with a painful cliffhanger at the end of the mid-season finale. Where the hell did Abbie go? How will Crane find her? Will there be a time jump when new episodes return in February? Well, one thing we do know for sure is that there will be a time slot jump. Personally, we loved Sleepy Hollow on Mondays and we didn't like it going up against Scandal on Thursday nights. That's why we're showing some love right now because that's what it's going to need with its move to Friday nights. This actually could be a good thing for the show. Hopefully, some of the viewers it lost when it moved to Thursdays will return. Because we sincerely would like Team Witness to get a fourth season. The third season of Sleepy Hollow continues Friday, February 5 at 8/7c on FOX.
Vinyl, February 14
It's all about rock 'n roll and we like it. Vinyl is HBO's upcoming series set in the music business in New York City in the wild 1970s. Martin Scorsese and Mick Jagger are two of the big names behind this look at a troubled record label. We can only imagine what Bobby Cannavale's Richie Finestra will have to do in order to save his company. The series will be filled with sex, drugs and rock and roll. But punk rock, disco, and hip-hop will also be in the mix — those three genres of music were starting to heat up back then. In addition to Cannavale (Boardwalk Empire, Third Watch), the cast includes Olivia Wilde (House M.D., Doll & Em), Ray Romano (Everybody Loves Raymond, Parenthood), Dennis Quaid and Meg Ryan's son, Jack Quaid, Mick's son James Jagger, and Paul-Ben Victor (The Wire, Entourage).
A period drama that deeply explores the world of music is right up our alley. Vinyl premieres Sunday, February 14 at 10/9c on HBO. Heads up, it's a two-hour episode.
Girls, February 21
By the end of the fourth season of HBO's Girls, Hannah showed some actual growth. No lie. Sure, she couldn't manage to stay in grad school. Sure, she went out of her way to try to be the "cool" teacher and make one of the students her bestie. But there was actual character development when she decided not to play relationship regression and go back to Adam. She decided to stop being so resistant and sabotage-y and she chose Fran! As much as we adore Adam, we must say we were proud of Hannah. More proud than we've ever been. As for Marnie, she got engaged to that douche of a bandmate of hers. Shoshanna accepted a job that took her to Japan. And Jessa showed some promise. Maybe she'll experience an exponential amount of growth in Season 5. We'll be watching to see if that happens.
Girls premieres Sunday, February 21 at 10/9c on HBO.
Togetherness, February 21
We still don't understand how these four adults are all living under one roof and making it work — especially with kids in the mix! We've got the married couple, Brett and Michelle, who actually own the house. They're struggling to rekindle the spark in their relationship with mixed results. Add to that Brett's friend Alex and Michelle's sister Tina, who have a connection we love and want to see develop. But maybe the best part of this comedy is watching all the "adults" deal with their issues. We say "adults," because we're not entirely sure Alex and Tina are there yet. They may appear to be grown-ups, but we're not convinced (and we're not complaining).
Season 2 of Togetherness premieres Sunday, February 21 at 10:30/9:30c on HBO.
Related posts
Scott McCord and Elizabeth Saunders Talk the From Season 2 finale
[Warning: Spoilers for the season finale.] How's everyone doing after that finale? While we wait and wonder and hope for a third season announcement, soon, here's what Scott McCord and Elizabeth Saunders had to say about their parts of the finale, and where they hope they get to go next….
Scott McCord and Elizabeth Saunders Talk From Season 2 + A Season Finale Preview
[Warning: General spoilers ahead.] It all comes down this, #FROMily. As Sunday's episode wraps up Season 2, we begin with the aftermath of the terrifying onset of seemingly simultaneous attacks on Julie, Marielle, and Randall, which accelerate the "We gotta get out of this place" of it all. Sara comes…
Alison Sweeney Talks About What's Next for Hannah and Mike After Carrot Cake Murder: A Hannah Swensen Mystery
[Warning: Spoilers for Carrot Cake Murder.] Everybody OK after that Hannah Swensen Mystery twist? Thankfully, our favorite crime-solving couple is still on speaking term, even if they're on a break (hopefully not that kind of break). Most importantly, we already know this isn't the last film in the series. No…
Counting Down to From Season 2
[Warning: General spoilers ahead.] We're just shy of two weeks away from Season 2 of last spring's obsession, From, which premieres at 9 pm/8c, Sunday, April 23rd, on MGM+ (formerly EPIX). If you never picked it up last year, now's your chance, and you can do it for free, catching…
Thank Me Later: Will Trent
[Warning: spoilers ahead.] I'm on record as loving and losing shows over at ABC so I'm usually very reticent to pick something up on the network until it's been renewed, and I seriously hope I'm not jinxing it, but I took a chance on the deeply odd and very sweet…
Dennis Heaton Talks The Imperfects
Longtime readers at TV Goodness will know that Motive is one of my ride-or-die series, and as such, I am fiercely loyal to its creator, Dennis Heaton. He followed up that fantastic reverse procedural with Netflix's The Order and is back on our streaming screens with The Imperfects, which dropped…
Kelly McCormack Talks Favorite Moments in A League of Their Own
[Warning: Mild spoilers for season 1.] Now that you've had a chance to watch A League of Their Own, here's the rest of my chat with Kelly McCormack about her favorite moments of the season. Seeing the iconic Peaches uniforms for the first time wasn't just a goosebump moment for…
John Griffin and Harold Perrineau Talk From Season 1 Finale
[Warning: General spoilers ahead.] How are we doing, #FROMily? In case you missed it this morning, the very good news is that that cliffhanger will be followed by a second season, which was gifted this morning ahead of the linear broadcast of the finale. I always legitimately appreciate when we…
Elizabeth Saunders Talks From
[Warning: General spoilers ahead.] One of the things that makes EPIX's From such a fun ride is the abundance of Canadian cast members. Elizabeth Saunders, who plays Donna, is a favorite from her turn on the third season of Mary Kills People [streaming on Global TV in Canada and Roku…
Corteon Moore Talks From "Broken Windows, Open Doors"
[Warning: Spoilers for tonight's episode.] Tonight's episode of From had us all in our feels as we learned through flashbacks about the Sophie's Choice Boyd had to make to save his son, and back in the present as Boyd said his piece with Ellis before heading into the woods with…
What They Said: Three Revealing Conversations from Survivor's Remorse "Closure"
WARNING: Spoilers for Survivor's Remorse "Closure" The latest episode of Starz's Survivor's Remorse featured conversations that showed characters really digging deep into their thoughts, emotions and motivations.
Two Takes: The Catch "The Knock-Off"
Who can you trust? If this episode of The Catch was any indication, the answer is just about nobody. Betrayal was running rampant as Felicity (Shivani Ghai) arose from the dead to seduce-con Margot, Gretchen (Maria Thayer, Gotham, The Mindy Project) played gold-hearted Alice 2.0 before swindling Ethan, Tessa jumped…
What They Said: Top 3 Quotable Moments from Preacher "El Valero"
Both Quincannon and Jesse refuse to give up on what they each think is rightfully theirs. While Jesse is struggling to face the consequences of his actions, Quincannon has laid his past demons to rest and is hellbent on moving forward and putting Annville on the map again. Despite a…
What They Said: Favorite Quotes from Supergirl "Worlds Finest"
Oh, Supergirl. That ending was cold. But I can't hate on you because the latest episode has quickly become one of my favorites.
What They Said: Top 4 Quotable Moments from Black Sails "XXIII"
The dialogue in "XXIII" is phenomenal. It's always a fun ride when Black Sails carries its viewers along without giving them the chance to catch their breath. When an episode moves at this unforgiving pace, there is no chance for a breather nor is there a respite from the information…
What Lucifer Said: Favorite quotes from Supernatural "O Brother, Where Art Thou?"
Supernatural episodes are almost always funny but thanks to the dialogue and a certain man speaking said dialogue, I laughed a lot during "O Brother, Where Art Thou?" You know, when I wasn't busy fearing for Sam's life or wondering what in the world was going on with Dean and…
What They Said: The Flash, "Legends Of Today" and Arrow, "Legends Of Yesterday"
Two nights of Arrow + The Flash = what more could we ask for?! I don't know what it is about blending these shows, but I can't help but feel that every time they come together, they somehow become greater than the sum of their parts. And that's saying a lot…
What they Said: Top 4 Quotable Moments from Graceland "Little Bo Bleep"
Shoot outs. Fake outs. And long-awaited revelations. "Little Bo Bleep" was a jam-packed episode that wrapped up some loose ends and totally frayed others. Â It finally gave us one Sarkissian in jail and pulled back the curtain on Briggs' master plan, but it also set up Jakes for a world…
What They Said: Favorite Quotes from Poldark "Part 4"
"What have I told you, I don't require my wife to crochet and sip tea, but I do require her to remember she's not a beast of burden." No, I'm not talking about The Rolling Stones! I have to admit though, just for a second, the lyrics popped into my…
3 Moments of Goodness from Brooklyn Nine-Nine "Johnny and Dora"
The most satisfying part of this season's finale has to the Jake and Amy kiss. Well, they kiss three times but the last one is the best one — and it means something. The Charles and Rosa dynamic was also great. I love how she's convinced he doesn't know anything…