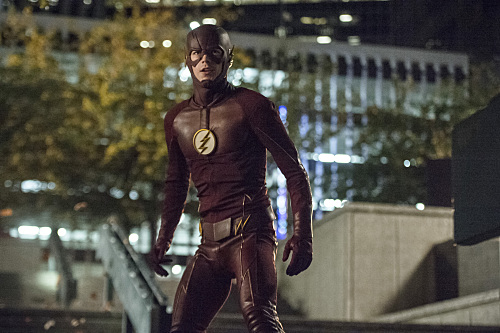 WARNING: Spoilers
The CW's upcoming series, DC's Legends of Tomorrow, continues to have a major influence on Season 2 of The Flash. Last week, Barry Allen dealt with the two Snart siblings when their backstory was fleshed out a bit more with the introduction (and subsequent elimination) of their abusive dad. A relentless Barry claimed he could see the good in Snart even as Captain Cold ended up back behind bars. As we all know, this path that Leonard's currently on will land him with the Legends supergroup.
When we visited the Vancouver set of The Flash last week, Grant Gustin talked to the writers and reporters about the Barry Allen and Leonard Snart dynamic.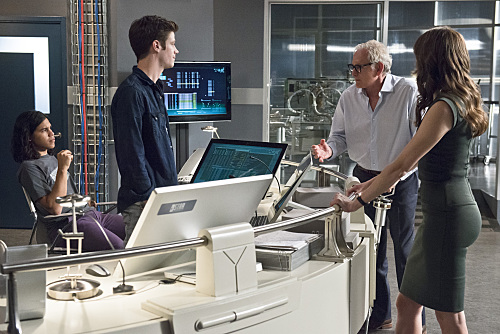 In tonight's episode, future Legend Professor Stein (Victor Garber) is in a bad, bad way and it's up to Team Star Labs to figure out how to help him.
Official CW Synopsis for "The Fury of Firestorm"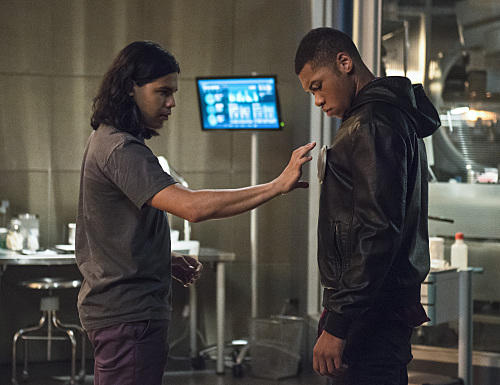 INTRODUCING FIRESTORM — Barry (Grant Gustin) and the team look for another Firestorm match for Dr. Stein (Victor Garber). When the team meets Jefferson "Jax" Jackson (guest star Franz Drameh), Caitlin (Danielle Panabaker) has her reservations about whether Jax is the right match for Dr. Stein. Iris (Candice Patton) surprises Joe (Jesse L. Martin) while Barry and Patty (guest star Shantel VanSanten) grow closer.
The other action in "The Fury of Firestorm" includes some West family drama. Last week, Joe came clean to his daughter about the fact that Iris' mother is still alive. How's the ace reporter going to deal with this news? According to this clip the CW released, Iris gives her mother a chilly reception. We're talking Captain Cold-level chilly.
Candice Patton talks about Season 2 and the mama drama Iris finds herself suddenly experiencing.
And we can't forget about Earth-2 Harrison Wells. We've been seeing glimpses but, hopefully, we're about to get a more sizable dose of him. Barry and the gang might not be so happy about that, however. Grant Gustin and Tom Cavanagh help prep you for this arrival that's sure to ruffle more than a few feathers. Grant also previews the Professor Stein dilemma.
The Flash airs Tuesdays at 8/7c on the CW.
Inside The Flash "The Fury of Firestorm"

Related posts
Tyler Hynes Talks Through His Eight-Film Hallmark Holiday Library
Things you realize when you have to re-record your shows on a new DVR – just how many Hallmark movies your people have done. Fan favorite – and one of ours – Tyler Hynes has done eight Christmas movies for Hallmark Channel and Hallmark Movies & Mysteries since 2018. Alongside…
What They Said: Three Revealing Conversations from Survivor's Remorse "Closure"
WARNING: Spoilers for Survivor's Remorse "Closure" The latest episode of Starz's Survivor's Remorse featured conversations that showed characters really digging deep into their thoughts, emotions and motivations.