WARNING: Spoilers for The Flash
The Flash is all new tonight. Our preview includes interviews with the cast from the set of the show in Vancouver. They talk about what's ahead in "Family of Rogues" and analyze some of the things that have happened in Season 2 so far.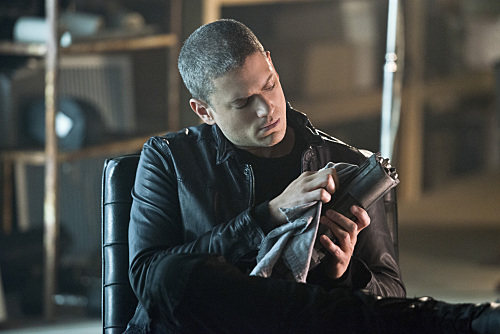 Official CW Synopsis of Family of Rogues
MICHAEL IRONSIDE GUEST STARS AS LEWIS SNART — When Barry (Grant Gustin) and the team find out Captain Cold (guest star Wentworth Miller) has been kidnapped, they form an uneasy alliance with his sister, Lisa (guest star Peyton List). However, Barry feels double-crossed when he finds out Snart is working with his father, Lewis Snart (guest star Michael Ironside) on a heist. Meanwhile, Joe (Jesse L. Martin) is faced with a difficult decision.
Grant Gustin
-About Henry leaving at the end of the Season 2 premiere
Candice Patton
-Teases tonight's episode in terms of her character.

Danielle Panabaker
-About Caitlin meeting Jay Garrick
Carlos Valdes
-About Cicsco's powers and his decision to keep them a secret

Teddy Sears
-About Jay's struggling without his power

The Flash airs tonight at 8/7c on the CW.
Related posts
Catching Up with Ted Lasso and Previewing Season 2
[Warning: General spoilers ahead.] The not so dirty little secret about how I approach a new series is that I sometimes make a call based on the headspace I'm in at the time. It's been a minute since I've picked up a show after the first season and then binge…
What They Said: Three Revealing Conversations from Survivor's Remorse "Closure"
WARNING: Spoilers for Survivor's Remorse "Closure" The latest episode of Starz's Survivor's Remorse featured conversations that showed characters really digging deep into their thoughts, emotions and motivations.