In last week's Supernatural, Dean messed up Metatron but good (real good) but the devious angel wasn't talkin'. The only intel he coughed up was the fact that they would need the First Blade in order to get rid of Dean's Mark of Cain. Sam gave Dean some great advice. That his brother didn't need to give in to the urge to kill. He has what it takes to fight it. "Maybe part of that powerful force has to be you." It turned out Sam could be right. His big brother didn't off those two idiots who said they'd murder Dean for Claire. Meanwhile, Crowley dealt with some serious mama drama and Cas continued to explore a relationship with his vessel's daughter. Please tell us that Crowley's not falling for Rowena's supporting her son schtick.
This week, Charlie's back. Things look like they might get brutal.
Synopsis for "There's No Place Like Home":Â CHARLIE RETURNS FROM OZ — Sam (Jared Padalecki) is scanning the internet for suspicious paranormal activity and comes across a video of Charlie (guest star Felicia Day) beating up a district attorney. Dean (Jensen Ackles) suspects she's back from Oz and hunting on her own, assuming the district attorney must have been a demon. When they do find Charlie, they are shocked when she tells them why she really came back from Oz. Phil Sgriccia directed this episode written by Robbie Thompson (#1010).
At last year's 200th episode Fan Party for Supernatural, we snagged a few teases for the episode:
Robert Singer: It's not a hundred percent the Charlie that we all know and love.

Robbie Thompson: She's brought something back with her that's pretty scary. That's probably all I can really say about it. But she teams up with the boys to track that scary thing down.

Felicia Day: Charlie comes back from Oz and she's changed a little bit so we're definitely going to explore that in the episode and it was a wild ride.
Charlie's a character that we've always loved. It doesn't hurt that Buffy alum Felicia Day plays her. Can you believe that this is the fifth episode that involves Charlie? Wow. According to Thompson, former Supernatural writer/executive producer Sera Gamble was integral in putting Felicia on his radar.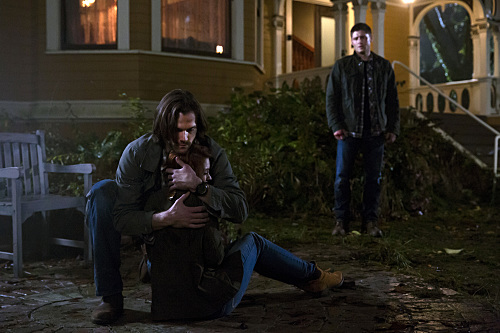 Robbie: It's really great when you have so many great actors like [Felicia Day] that we can bring back and let the character actually grow. And not just be a character that shows up and oh, hey, here's a case.  It's all in the strength of her as an actor. She brings so much to it. Sera Gamble was the first person who was, 'We should get Felicia Day.' And I was like, 'You're right. We should totally do that.' From that decision on, from the first day I saw her in dailies, I was like, oh this is a character we're really going to be able to explore and really let grow. And fortunately, this is no surprise with Jared and Jensen, she just clicks with them. They have such great chemistry. Every reel has something for the gag reel. But when she's there, they really muck it up quite a bit. They really get along really well. They're all southern kids.

Felicia: I love coming back to the show because I always get something fantastic to do in the episodes that they write Charlie in…I'm just thankful to be part of the family because it really is a family, Supernatural.
Heads up for everybody in the SPN Family who dabbles in the Twitter-verse:
Tonight. Supernatural. Be there! I'll be doing some live Tweeting with the West coast, 9pm PST! pic.twitter.com/Daq5qZx4Mg

— Felicia Day (@feliciaday) January 27, 2015
MORE PHOTOS
Photo Credit for Images: Katie Yu/The CW
Related posts
Dennis Heaton Talks The Imperfects
Longtime readers at TV Goodness will know that Motive is one of my ride-or-die series, and as such, I am fiercely loyal to its creator, Dennis Heaton. He followed up that fantastic reverse procedural with Netflix's The Order and is back on our streaming screens with The Imperfects, which dropped…
Kelly McCormack Talks Favorite Moments in A League of Their Own
[Warning: Mild spoilers for season 1.] Now that you've had a chance to watch A League of Their Own, here's the rest of my chat with Kelly McCormack about her favorite moments of the season. Seeing the iconic Peaches uniforms for the first time wasn't just a goosebump moment for…
John Griffin and Harold Perrineau Talk From on EPIX Season 1 Finale
[Warning: General spoilers ahead.] How are we doing, #FROMily? In case you missed it this morning, the very good news is that that cliffhanger will be followed by a second season, which was gifted this morning ahead of the linear broadcast of the finale. I always legitimately appreciate when we…
Elizabeth Saunders Talks EPIX's From
[Warning: General spoilers ahead.] One of the things that makes EPIX's From such a fun ride is the abundance of Canadian cast members. Elizabeth Saunders, who plays Donna, is a favorite from her turn on the third season of Mary Kills People [streaming on Global TV in Canada and Roku…
Corteon Moore Talks From "Broken Windows, Open Doors"
[Warning: Spoilers for tonight's episode.] Tonight's episode of From had us all in our feels as we learned through flashbacks about the Sophie's Choice Boyd had to make to save his son, and back in the present as Boyd said his piece with Ellis before heading into the woods with…
Pegah Ghafoori Talks From "All Good Things…"
[Warning: Spoilers for tonight's episode] Tonight on From, Fatima's anniversary celebration turned into a Colony House of horrors when a misguided Kevin let his monster bae in and she promptly killed him and left the window open for her crew. While the party devolved into terror and sent everyone running,…
Shaun Majumder Talks From "Book 74"
[Warning: Spoilers for tonight's episode.] Tonight on EPIX's From, Father Khatri made a bold move, kidnapping Sara instead of turning her in, and then recognizing her as a vessel for some big messages. That startling realization speaks to him on multiple levels–as a man of faith, a man trapped in…
Avery Konrad Talks About Sara's Struggle in From "Silhouettes"
[Warning: Spoilers for tonight's episode.] Over the course of the season so far on From, we've witnessed Sara's battle against the voices telling her to to do terrible things, and tonight we saw her unravel further, threatening the Matthews and lashing out in a moment of terror with horrifying results….
Hannah Cheramy Talks From "Choosing Day"
[Warning: Spoilers for tonight's episode.] Tonight, on EPIX's From, the Matthews participate in the show's version of the sorting hat, choosing where to call home–the town or Colony House. At the end of the episode, Julie makes the decision to split from her family and instead settle in with Fatima…
Ricky He Talks From "The Way Things Are Now"
[Warning: Spoilers for episode 102 of EPIX's From.] Epix's new series From is two episodes in and it's already laying the groundwork for a seriously spooky season. Tonight's episode demonstrated the careful balance of relief and horror that the show hits, with our characters' worst fears realized, just not when…
What They Said: Three Revealing Conversations from Survivor's Remorse "Closure"
WARNING: Spoilers for Survivor's Remorse "Closure" The latest episode of Starz's Survivor's Remorse featured conversations that showed characters really digging deep into their thoughts, emotions and motivations.
Two Takes: The Catch "The Knock-Off"
Who can you trust? If this episode of The Catch was any indication, the answer is just about nobody. Betrayal was running rampant as Felicity (Shivani Ghai) arose from the dead to seduce-con Margot, Gretchen (Maria Thayer, Gotham, The Mindy Project) played gold-hearted Alice 2.0 before swindling Ethan, Tessa jumped…
What They Said: Top 3 Quotable Moments from Preacher "El Valero"
Both Quincannon and Jesse refuse to give up on what they each think is rightfully theirs. While Jesse is struggling to face the consequences of his actions, Quincannon has laid his past demons to rest and is hellbent on moving forward and putting Annville on the map again. Despite a…
What They Said: Favorite Quotes from Supergirl "Worlds Finest"
Oh, Supergirl. That ending was cold. But I can't hate on you because the latest episode has quickly become one of my favorites.
What They Said: Top 4 Quotable Moments from Black Sails "XXIII"
The dialogue in "XXIII" is phenomenal. It's always a fun ride when Black Sails carries its viewers along without giving them the chance to catch their breath. When an episode moves at this unforgiving pace, there is no chance for a breather nor is there a respite from the information…
What Lucifer Said: Favorite quotes from Supernatural "O Brother, Where Art Thou?"
Supernatural episodes are almost always funny but thanks to the dialogue and a certain man speaking said dialogue, I laughed a lot during "O Brother, Where Art Thou?" You know, when I wasn't busy fearing for Sam's life or wondering what in the world was going on with Dean and…
What They Said: The Flash, "Legends Of Today" and Arrow, "Legends Of Yesterday"
Two nights of Arrow + The Flash = what more could we ask for?! I don't know what it is about blending these shows, but I can't help but feel that every time they come together, they somehow become greater than the sum of their parts. And that's saying a lot…
What they Said: Top 4 Quotable Moments from Graceland "Little Bo Bleep"
Shoot outs. Fake outs. And long-awaited revelations. "Little Bo Bleep" was a jam-packed episode that wrapped up some loose ends and totally frayed others. Â It finally gave us one Sarkissian in jail and pulled back the curtain on Briggs' master plan, but it also set up Jakes for a world…
What They Said: Favorite Quotes from Poldark "Part 4"
"What have I told you, I don't require my wife to crochet and sip tea, but I do require her to remember she's not a beast of burden." No, I'm not talking about The Rolling Stones! I have to admit though, just for a second, the lyrics popped into my…
3 Moments of Goodness from Brooklyn Nine-Nine "Johnny and Dora"
The most satisfying part of this season's finale has to the Jake and Amy kiss. Well, they kiss three times but the last one is the best one — and it means something. The Charles and Rosa dynamic was also great. I love how she's convinced he doesn't know anything…