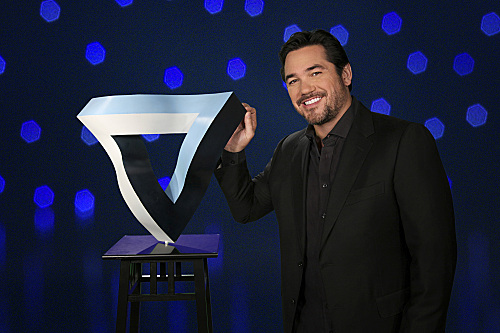 Tonight, a brand new series materializes before our very eyes. And it's called Masters of Illusion. Here's what you need to know:
Synopsis for Masters of Illusion: Hosted by actor Dean Cain ("Lois & Clark: The New Adventures of Superman"), MASTERS OF ILLUSION premieres Friday, Aug. 1 with great escapes, fascinating sleight-of-hand and large scale illusions, all in front of a studio audience.  The series features amazing magic performed by cutting-edge illusionists and escape artists, and performers in each episode display skills ranging from perplexing interactive mind magic to hilarious comedy routines.  Live audience members and viewers at home will be baffled by the astounding skills of these modern illusionists.
Michael Grandinetti is one of the illusionists being featured on the show. For the CW series , Michael filmed several of his large-scale and audience interactive illusions, including the "360 Degree Levitation", "Mid-Air Vanish", and "Rosebush Through Time." For his performance of "Walking Through Steel", Michael was assisted by American Idol and Broadway star Ace Young, who examined the 7ft tall, 200lb metal barrier closely. Michael also recreated a historical piece of magic, first performed by Orson Welles in the 1940's, utilizing borrowed items and members of the audience.
Check back here next week for an interview with Grandinetti. Until then, enjoy tonight's series premiere of Masters of Illusion airing at 8/7c on the CW.
Related posts
Kelly McCormack Talks Favorite Moments in A League of Their Own
[Warning: Mild spoilers for season 1.] Now that you've had a chance to watch A League of Their Own, here's the rest of my chat with Kelly McCormack about her favorite moments of the season. Seeing the iconic Peaches uniforms for the first time wasn't just a goosebump moment for…
What They Said: Three Revealing Conversations from Survivor's Remorse "Closure"
WARNING: Spoilers for Survivor's Remorse "Closure" The latest episode of Starz's Survivor's Remorse featured conversations that showed characters really digging deep into their thoughts, emotions and motivations.