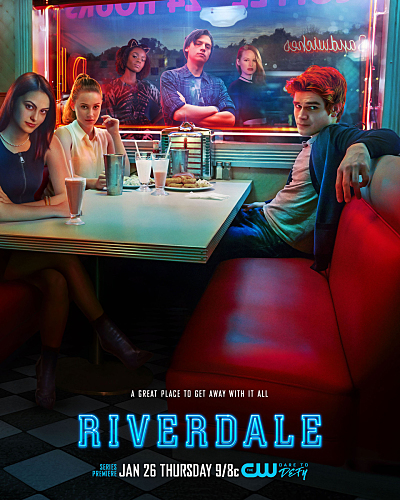 WARNING: Spoilers for tomorrow night's Riverdale
On the CW's Riverdale, Archie (KJ Apa) spent the latest summer break working construction, sleeping with the music teacher and becoming a tortured songwriter.
When the action picks up in the pilot, the angsty teen tries to make the music thing materialize when he brings his songs to Josie and the Pussycats (Ashleigh Murray, Asha Bromfield and Hayley Law), to which Josie says no thanks in no uncertain terms.
Well, a team-up is finally happening in tomorrow night's episode when the fierce girl girl group perform a song he partially collaborated on called "All For Me." Backstory: before the Pussycats hit the stage, Archiekins drops by one of their rehearsals and helps them finish a lyric.
According to the CW, the concert takes place at an event called the Taste of Riverdale. And while Archie will be present to see his song performed for the crowd, he's going to have to witness it in super sneaky fashion. He's grounded. But nothing is going to stop him from living his best life.
Today the network released a music video for the original recording of "All For Me":
Up until now, Josie and the Pussycats have performed a couple of covers including The Archies classic, "Candy Girl (Sugar Sugar)." Tune into the debut of  "All For Me" when Riverdale airs tomorrow night at 9/8c on the CW. This wonderfully dark and twisty take on the Archies comics airs after Supernatural.