In last week's Supernatural, Dean messed up Metatron but good (real good) but the devious angel wasn't talkin'. The only intel he coughed up was the fact that they would need the First Blade in order to get rid of Dean's Mark of Cain. Sam gave Dean some great advice. That his brother didn't need to give in to the urge to kill. He has what it takes to fight it. "Maybe part of that powerful force has to be you." It turned out Sam could be right. His big brother didn't off those two idiots who said they'd murder Dean for Claire. Meanwhile, Crowley dealt with some serious mama drama and Cas continued to explore a relationship with his vessel's daughter. Please tell us that Crowley's not falling for Rowena's supporting her son schtick.
This week, Charlie's back. Things look like they might get brutal.
Synopsis for "There's No Place Like Home":Â CHARLIE RETURNS FROM OZ — Sam (Jared Padalecki) is scanning the internet for suspicious paranormal activity and comes across a video of Charlie (guest star Felicia Day) beating up a district attorney. Dean (Jensen Ackles) suspects she's back from Oz and hunting on her own, assuming the district attorney must have been a demon. When they do find Charlie, they are shocked when she tells them why she really came back from Oz. Phil Sgriccia directed this episode written by Robbie Thompson (#1010).
At last year's 200th episode Fan Party for Supernatural, we snagged a few teases for the episode:
Robert Singer: It's not a hundred percent the Charlie that we all know and love.

Robbie Thompson: She's brought something back with her that's pretty scary. That's probably all I can really say about it. But she teams up with the boys to track that scary thing down.

Felicia Day: Charlie comes back from Oz and she's changed a little bit so we're definitely going to explore that in the episode and it was a wild ride.
Charlie's a character that we've always loved. It doesn't hurt that Buffy alum Felicia Day plays her. Can you believe that this is the fifth episode that involves Charlie? Wow. According to Thompson, former Supernatural writer/executive producer Sera Gamble was integral in putting Felicia on his radar.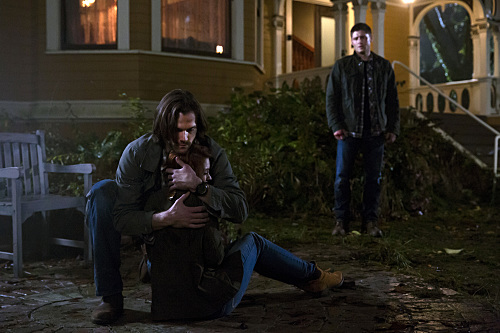 Robbie: It's really great when you have so many great actors like [Felicia Day] that we can bring back and let the character actually grow. And not just be a character that shows up and oh, hey, here's a case.  It's all in the strength of her as an actor. She brings so much to it. Sera Gamble was the first person who was, 'We should get Felicia Day.' And I was like, 'You're right. We should totally do that.' From that decision on, from the first day I saw her in dailies, I was like, oh this is a character we're really going to be able to explore and really let grow. And fortunately, this is no surprise with Jared and Jensen, she just clicks with them. They have such great chemistry. Every reel has something for the gag reel. But when she's there, they really muck it up quite a bit. They really get along really well. They're all southern kids.

Felicia: I love coming back to the show because I always get something fantastic to do in the episodes that they write Charlie in…I'm just thankful to be part of the family because it really is a family, Supernatural.
Heads up for everybody in the SPN Family who dabbles in the Twitter-verse:
Tonight. Supernatural. Be there! I'll be doing some live Tweeting with the West coast, 9pm PST! pic.twitter.com/Daq5qZx4Mg

— Felicia Day (@feliciaday) January 27, 2015
MORE PHOTOS
Photo Credit for Images: Katie Yu/The CW